Delta Kites
(Single Line Fun!!)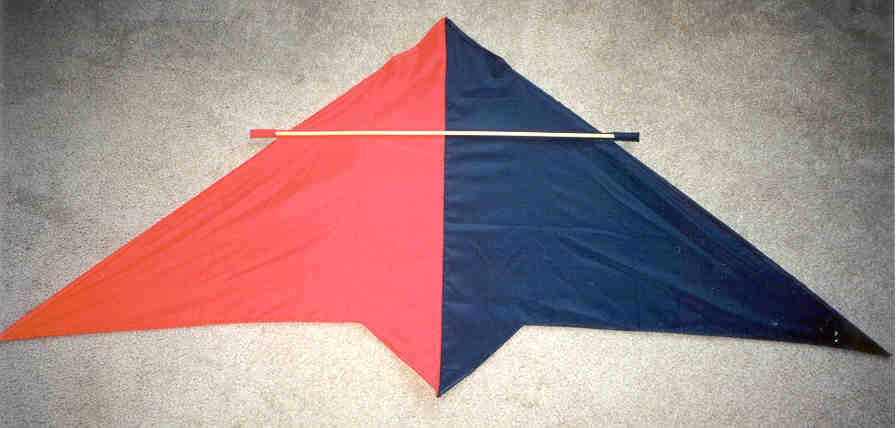 This cute 2 tone model was made for the 1st Annual Millennium Ice Fly/2000. Has a 54" wingspan and is made out of balloon ripstop nylon with wooden dowel frame.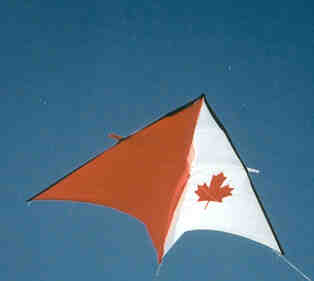 Flying high. My "Canada" Delta. 72" span, balloon ripstop nylon and C30 tube frame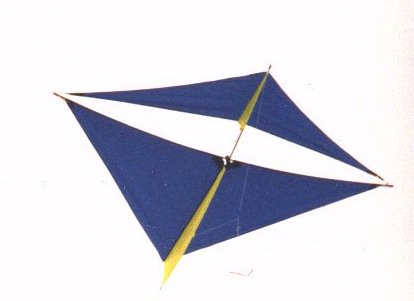 Here is the latest and greatest folks. It is called a Marc-2. Has a 72" wingspan. The rear sail's leading edge is bowed along with the spine that runs from head to tail.. The frame is 2400 carbon tube and the sail is spinnaker 3/4 oz ripstop nylon. Flys real well in a steady wind and with a long plastic tube tail can take a good breeze. Loves a good thermal too!!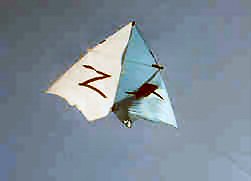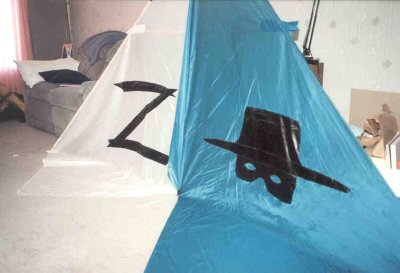 I think I have a Hero complex... ;) The fun part with "Zorro" here is most kids don't have a clue who he is. A great starting point for talking about kites. If you can make a kite out of the wrong materials then this one is it. The sails are a soft ripstop which is not recommended for kites.and the spars are 3/8" solid fiber glass with the exception of the spine which is a FL 505 glass-form tube. A great high wind flyer it can take blasts up to 50 kilometers per hour without phasing it. OK so it goes from it's original 11 foot span down to maybe a 5 foot span but it keeps on flying!!!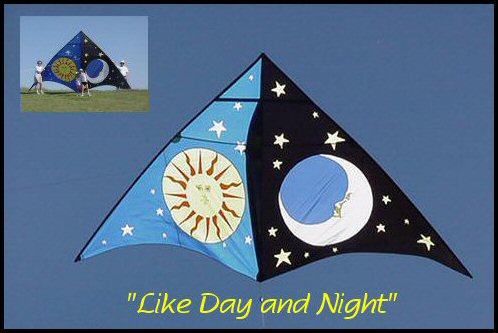 OK, Now that I have had all that practice getting delta's down to a science... It is time to scale it up a notch. At the same time ramp up the pressure and add a ton of applique. Well after a year and a half this is the end result. A 20 footer that is most unique in the world of kite flying. I owe my wife Arlene a HUGE thank you for being my seamstress and accomplice in this monumental project. Yes it flys as good as it looks and we are both very happy with the result. It is 3/4 oz ripstop with a FL 610 and FL505 frame. Lots of fun, pulls like a team of oxen and is a blast to fly!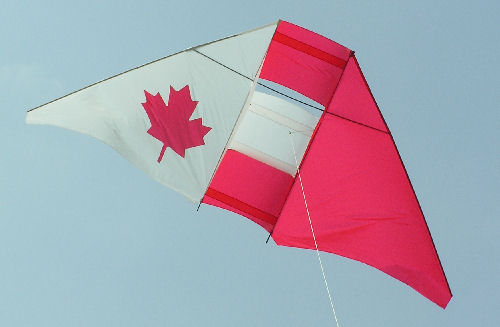 After giving away my Canada delta of a few pictures up... i had a need to replace it with a new one.... Well what design.... what size... After some contemplation the pic above is the result. A sled delta with a wingspan of 17 feet grew out of the idea. Sporting a light carbon frame and a FL610 spreader it should be a nice flier in light winds...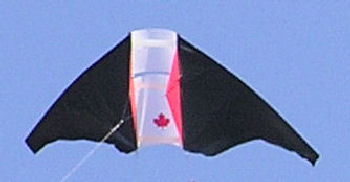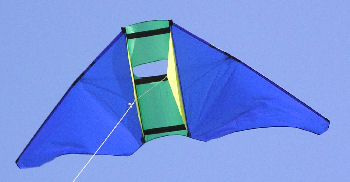 After the competition to cross the Niagara Gorge I got excited about the possibility of making some kites to do the crossing the next time with. I knew the sled delta design had potential as it can be set to "tack" across the wind. These two measure in around 9'-2" wide each. different frames seem to make a difference in flying ability but more testing will be needed to see which is the best. The black winged version used 1800 carbon tubes whereas the blue one uses C30 epoxy tubes.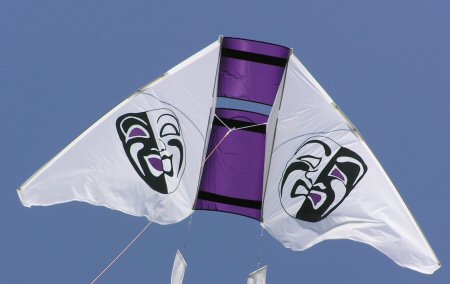 I had made a small kite with these two masks on it and gave it away. I liked the masks so much I decided to use them and searched around for a sail that they would fit. Amazingly the 9 foot sled delta was perfect. so with some 1/2 oz. ripstop for the sails I appliqued the masks to each sail then assembled the sails to the sled, added the frame and made some matching tails and set it aloft. A very nice flier and nifty looking too.
More Pics To Come!