Fighter Kites
(Small Kite, BIG Delights!)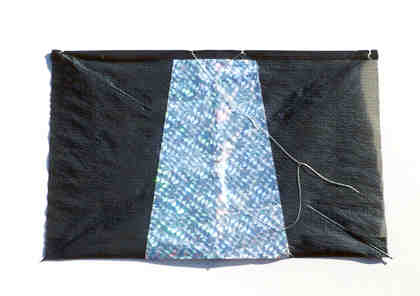 My first Buka... Prismatic Mylar centre and UL Orcon sides. Not a great flyer but not too awfully bad for a first attempt.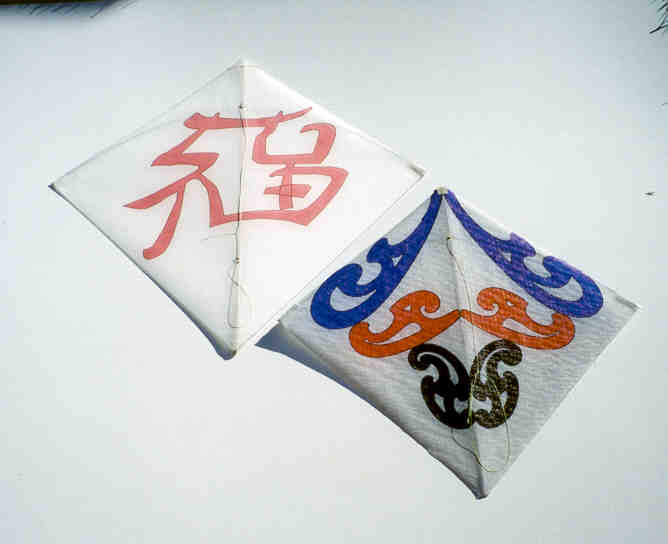 These two I use for gale force winds. The upper left is made of 3mil drafting mylar, bow of .08 fiberglass and spine of 1/4" sq hardwood dowel. The right one is medium weight Orcon, bamboo spine and .08 fiberglass bow.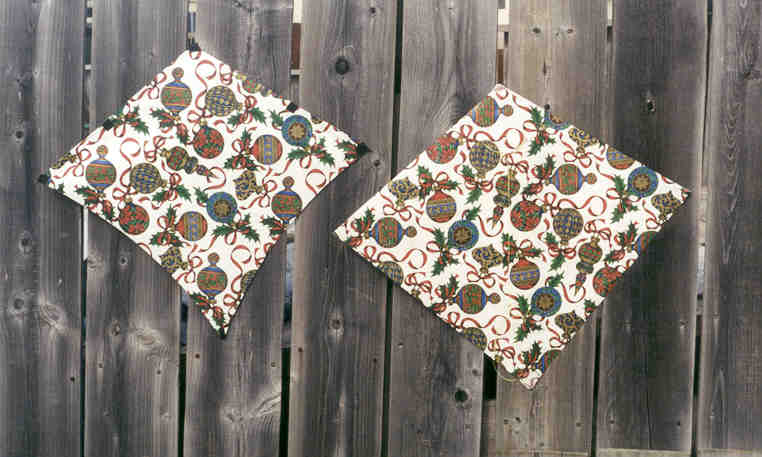 Christmas come early? Here is a Dot-01 on the left and a Publix on the right made from Tyvec wrapping paper. Too cool!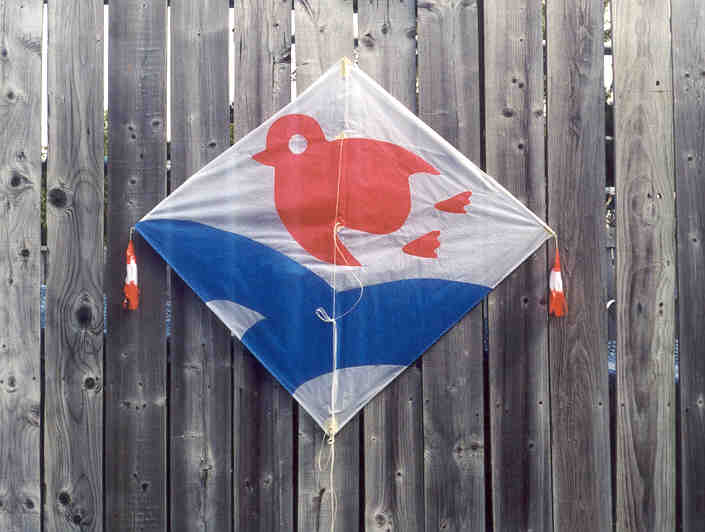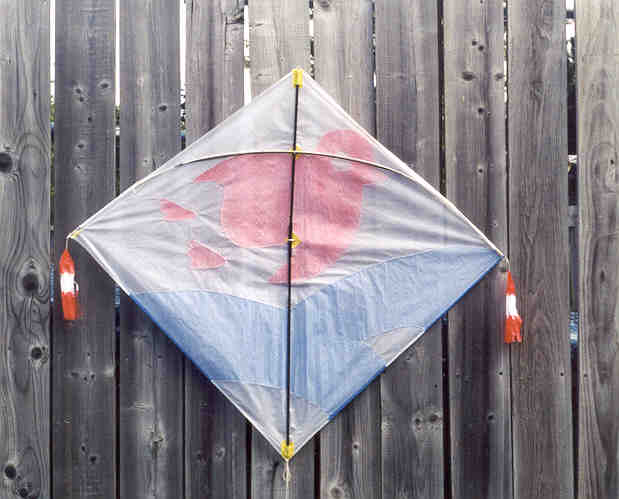 This is a modern Hata. The design by Peter Stauffer from Australia. The sail is Icarex with Avia 2300 spine and for low wind an 1/8" fiberglass bow with a .110 carbon compound attachment to the main bow. Really hard pulling and a ton of fun.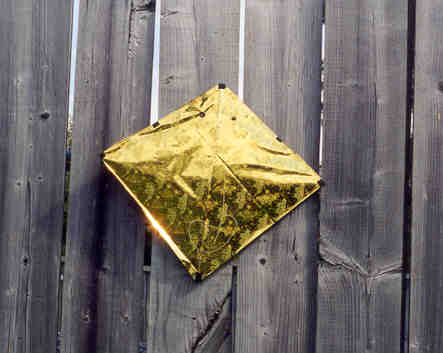 Here it is... Dot-02. It is Dot-01's smaller sister. A delicate little thing just for the pleasure of flitting a fighter around the sky. .05 fiberglass, Yes I said Fiberglass bow and bamboo spine make it a pure pleasure to fly.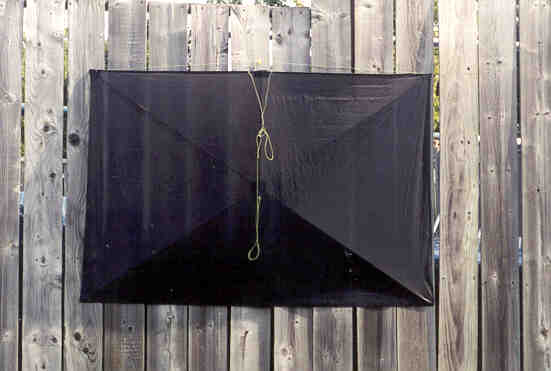 Big, Black and Beautiful. My 48"wide by 32" high mammoth is a real hoot to fly. Always gets someone talking to me trying to figure out how I fly that thing!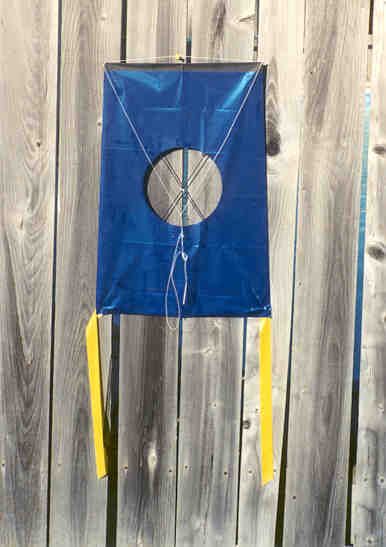 This Korean derivitive is called a "Pang Pae Yon". It was let out of the bag by Malcom Dick of Tasmania. A neeto kite that is indeed for light winds. The top spar bows to allow the air to flow down and off the bottom corners. the yellow "legs" help stabilize the kite a bit and provide a bit of liveliness in the movement. An interesting and unique flyer.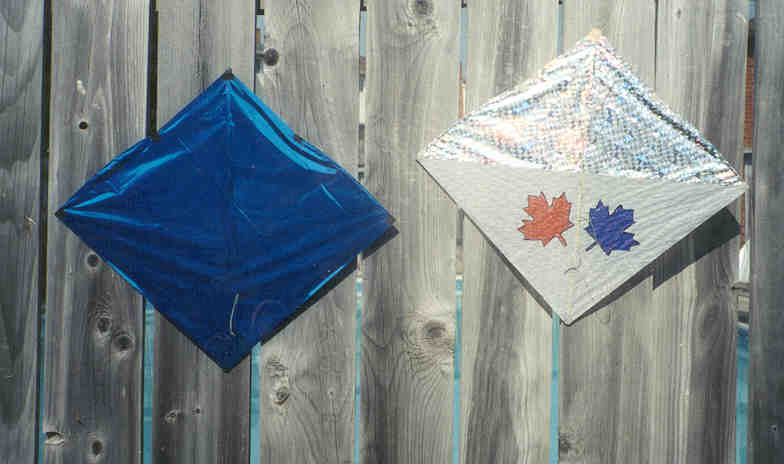 All ready for combat these two NFKA Standards or "Donna's Dogs" are finished and legal. The left one is a light wind version with cool blue mylar sail and .05 carbon bow and bamboo spine. The high wind version on the right is a combo prismatic mylar and medium orcon sail with .06 carbon bow and bamboo spine. All I can say is... FAST!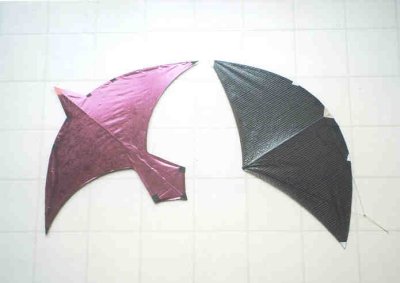 They don't call me "the mad scientist" for nuthin!! ;)
Here are the latest brain waves to come out of my laboratory. The one on the left is called the "Sparrow Hawk" This one is hot off the banch and isn't even bridled yet. It may not be a comp contender but I think it is pretty and hopefully fly as nice as it looks. This one is mylar with .05 carbon bow and bamboo spine. Real Cute.

The one on the right is called the "HARK" or high aspect ratio kite. For all intensive purposes this is what a fighter looks like when you cut off the nose and tail!! This one has an orcon sail, .05 carbon bow and bamboo spine. I think it has potential but won't know till I can get out and try it.

As they say the experiments go on and the results will tell the tale.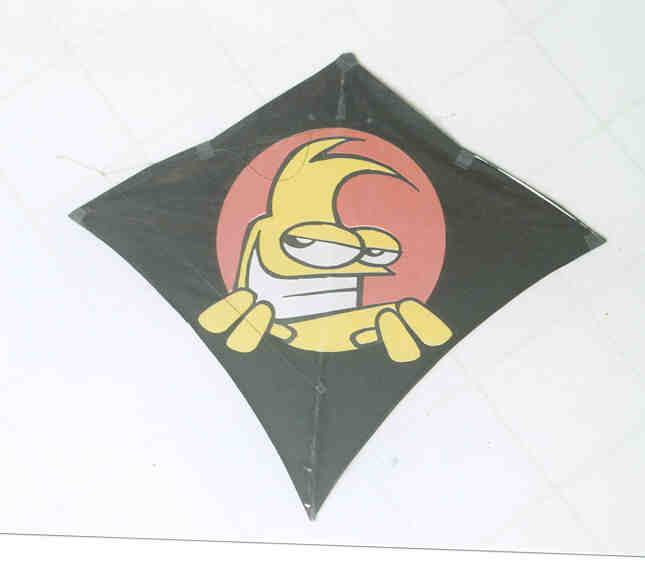 This is a cool variation on my Dot-02. Using black mylar sail I cut out the face from a Giacomo shoppers bag and adhered it to the sail. Add a .05 carbon bow and a bamboo spine and you have a unique light wind fighter. NO... this isn't a self protrait!! ;))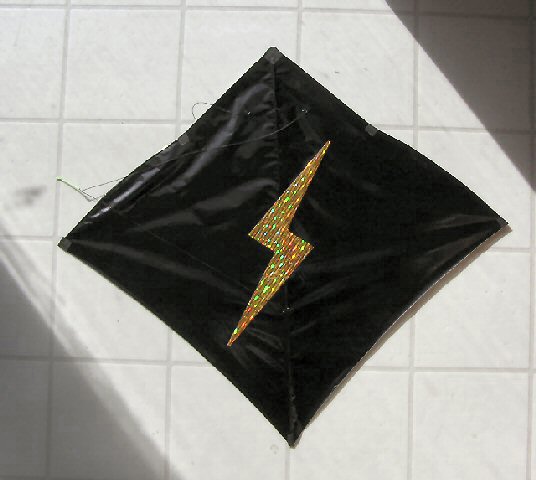 Here is the latest of my designs called the "Lightning Bolt" a bit smaller than my Dot-01 and twice as fast! I think I have finally got a competition ready fighter that in the right hands is a winner!
More Pics Coming Soon!!!