Denny's Sand Anchor
(more fun at the beach)
By Dennis Ische
There are two things you will need...
6 yards of 1 inch poly straping (the same as used on stunt kite handles)
1 -4ftx6ft poly tarp (the hardware store or car supply store or Canadian Tire)
Plan
This is a pretty straight forward plan as you can see.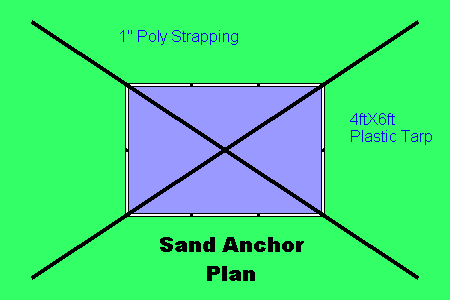 Now for the fun part...
Hot cut the strapping exactly in half. Then fold the ends over appros 7 inches to create a loop at each end of both pieces. Securely sew the ends to leave a loop approx 2 inches. I sewed across the top, down the sides, across the bottom and also put diagonal stitching in to make for a very secure end.
Fold the tarp in quarters and mark the center point of the tarp. Once that is done find the center of the strapping and lay it diagonaly across the tarp with the centres matching. Secure to the tarp (I used some masking tape). Then sew along each sinde with either a zig-zag or a wavy stitch to secure the strapping to the tarp.
Do the same with the other strap and that's it!! You are done. takes about an hour from start to finish.
Head out to the beach and dig a hole, place the sand anchor in straps down, toss a pile of sand onto the tarp and gather the straps and either put a cord through the loops or a carabiner and attach your kite line to it.
As an added bonus you can run some rope through the grommets in the tarp and use it as a back-up for securing our kite. It adds that "Safety Factor" to the mix and may even keep the sand in better!
As an alternative for two anchors- cut the tarp in half to make two- 3 foot by 4 foot pieces. fold the cut edge over twice to make a double flipped seam and sew. Add strapping as above and violins... you have two for smaller kites. Very cheap!!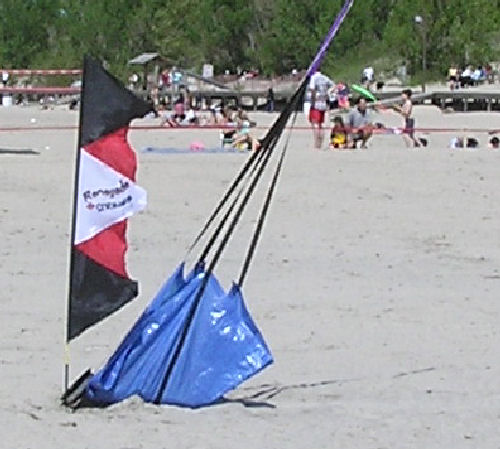 Sand Anchor in action
Have a great summer on the beach and keep those kites flying!
Dennis Ische