Line Laundry
(Things That "Hang" Around :s)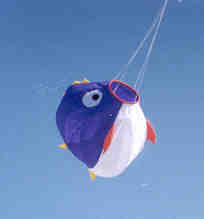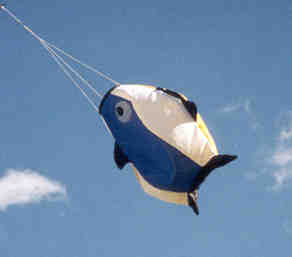 These little bags of air are called fat fish. Easy to make and fun to throw on a banner pole or hang off a kite line I really enjoy creating these things. The two in the pictures are not even in my collection. The one on the left went into the kite raffle at our clubs annual Ice fly in Feb. The second went to my friend Bill for his 40th birthday. It was made up in his club colours and the black fins represent his other favourite color!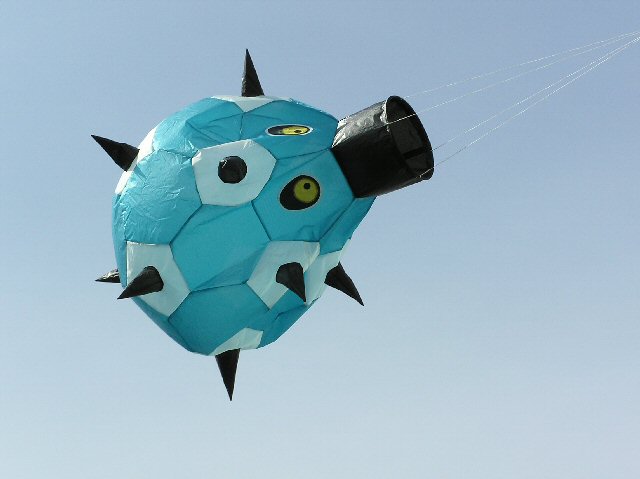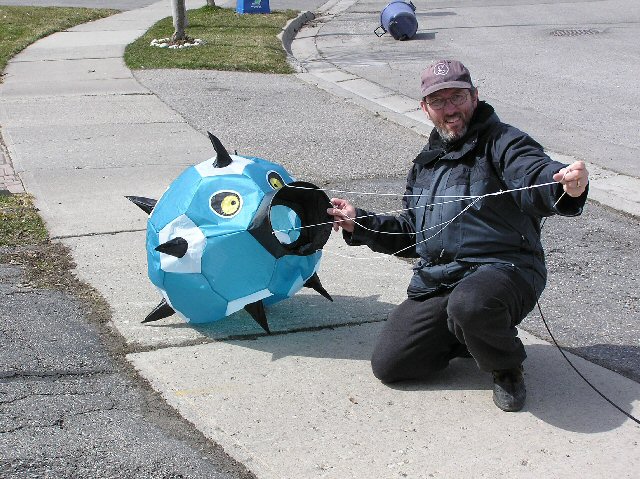 Is it a ground bouncer or line laundry?? Both that's what.... Taken from a plan on the net and shrunk to 1/3 the size "Spikey" is a cool little addition to the inflatables I have made! Going to be tons of fun!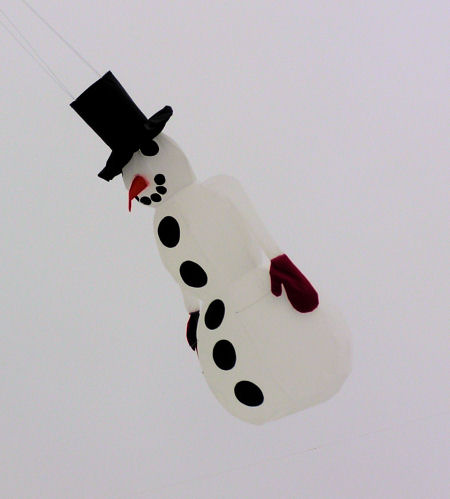 Living up here in Canuckville.... OK Canada.... winter flying is part of the sport. So what better than a Frosty little Snowman to hang on the line. Well he isn't so small being around 54 inches top of hat to bottom... even on a dull dreary winters day he puffs up and keeps on grinning!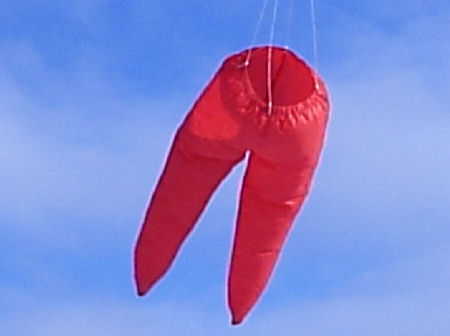 This is taking the term "Line Laundry" literally!!! ;)))
Here is the story.... I went to the discount store and bought a pair of nylon splash pants. wore them a couple times (have pics to proove it) and decided I didn't like them. So now what to do after blowing a whole 99 cents on them. WELL......
Add 4 grommets and a long bridle and a swivel and hang them off the kite line... sew the botton side seams together to restrict the wind going through... that's what! ;)
More Pics To Come!!!
This site has been modified on February 15th, 2018
© Copyright TMS Kites 2001/2018