Parafoil Kites
(Fluffy Not Stuffy)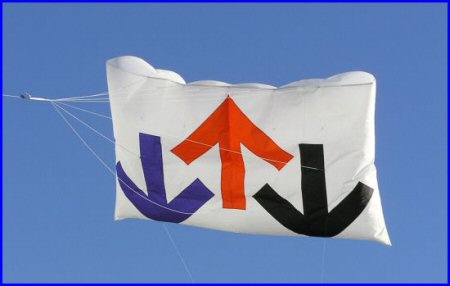 In 2006 our club decided that a workshop project would be a pillow kite. We had an example to base it on but needed to make one to check out our design. The kite above is the prototype we used for design and showing off that we knew what we were doing. ;) I call this one "One step forward and two steps back".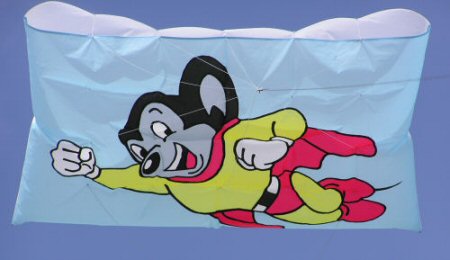 This strong little chap was one of my childhood hero's. Mighty Mouse saved the day almost every day at my house! We kept him a secret untill the day of the workshop for his grand unveiling. He sits on the typical 3x5 foot sail. He really turned out NICE!!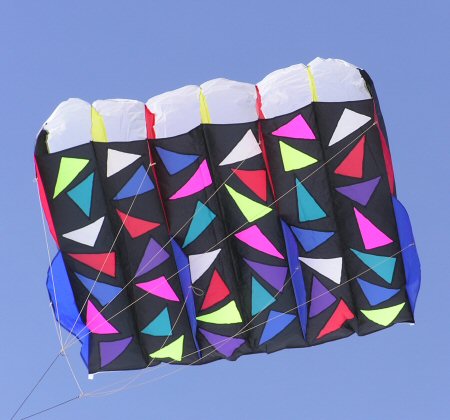 On my way to bigger and better parafoils I decided to make a 1/4 scale version to see if I was on the right track. Indeed I was. this one is around 36x45 inches with his big brother to be 15x12 feet. It flys wonderfully. looks pretty cool too. I call it "Triangles Gone Wild".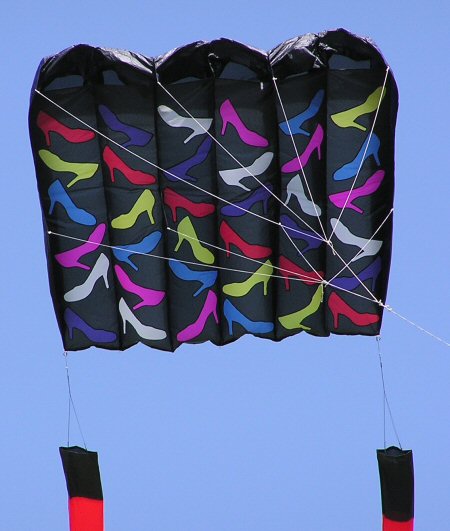 The next stage in my advancement of my parafoil skills is this beauty! A 45 sq. ft. or 7.5x6 foot pile of floaty ripstop. In trying to figure out what to put on it we had decided on behalf of my wife, high heels would be fun. As we were gathering up materials, Kellie Picklers, "Red High Heels" started playing on the radio. Well, that resolved it... The result is what you see... 18 pairs of high heeled shoes with a diagonal of red ones in a prominent position. I can tell you the ladies luv it where ever we fly this one.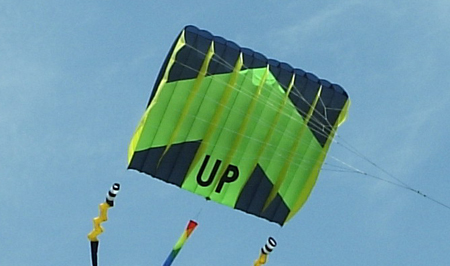 It may have taken over a year but we finally got my 180 square foot parafoil finished. This is an all original design and the last of a trio of kites. The first two being "Triangles Gone Wild" and the second being "Red high heeled Shoes" as seen above. This one measures 12 feet nose to tail. It also measures around 15 feet side to side and 2 foot 2 inches at its highest. There are 7 keels with 5 bridle points each working with a cascading bridle similar to the shoes parafoil. A ton of line involved there. We flew it first on a gusty day and in a gust it almost made me a piece of line laundry. Scared the daylights out of me. This will be a hard pulling kite and anchoring it securely first will be a priority. I still have to make the drogue for it but that is a winter project.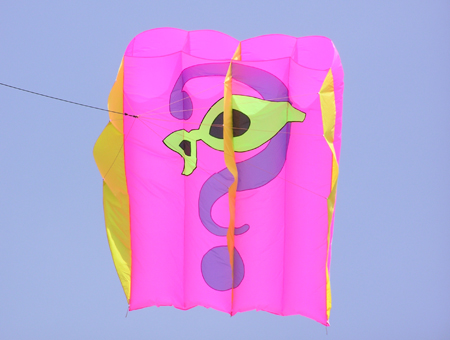 Holy what is It Batman? Well Robin… Would you believe it's a 50 square foot Pilot? Only the Riddler knows for sure as he left his calling card on the sail. Yup the Riddlers logo is what adorns this cool lifter. Usually a pilot is meant to be inconspicuous as it holds up a large piece of inflated ripstop. I don't have large pieces of inflatable ripstop so… I went for totally "in your face" and believe me this one is. It flies very nicely partly because I added a meter to each bridle line. Sure gets some interesting comments.






More Pics To Come!