Robot Versus Slug
LONDON (Reuters) - For centuries the humble slug has eaten its way through the world's vegetable patches, frustrating farmers and gardeners alike, but thanks to British scientists the great plant muncher is about to be munched.

Scientists at Britain's University of West England have developed the "SlugBot," a prototype robot capable of hunting down more than 100 slugs an hour.

It operates after dark when slugs are most active and uses their rotting bodies to generate the electricity it needs to power itself.

The SlugBot is the brainchild of engineers at the university's Intelligent Autonomous Systems Laboratory who wanted to build the world's first fully autonomous robot.

"Slugs were chosen because they are a major pest, are reasonably plentiful, have no hard shell of skeleton, and are reasonably large," Dr. Ian Kelly, SlugBot's creator, said in a statement.

The 2-foot-high machine uses an image sensor that beams out red light to pinpoint the slugs, which emit a different infra-red wavelength from worms and snails.

It then uses a carbon fibre arm with a three fingered claw grabber to pick up the slugs and store them in a tank.

After a hard night of slug busting, the robot returns home and unloads its victims into a fermentation tank. While the SlugBot recharges, the fermentation tank turns the slug sludge into electricity.

But the robot, voted one of the best inventions of the year by Time magazine, has attracted some criticism.

One Time reader called the invention "reckless" in a letter to the magazine. "To create robots that devour flesh is to step over a line that we would be insane to cross," he said.

Gardeners were more welcoming. Adam Pasco, editor of the BBC Gardener's World magazine, told the Daily Mail: "Anything that would prove a fool-proof method of destroying slugs would be fantastic."

A spokeswoman for the university told Reuters on Wednesday there were no plans to release the SlugBot on the commercial market. "It was a proof of concept machine only," she said.

The news will disappoint Britain's farmers who spend an average 20 million pounds a year trying to eradicate the slimy creatures.
---
Reaper Cheater
Gardener on motor mower cheats the grim reaper (lawn mower)

Sam Jones
Saturday April 23, 2005
The Guardian

To most people, mowing the lawn is an activity that threatens little more than boredom and, possibly, back pain.
But when Vidal Dacosta, 66, cheerfully climbed aboard his ride-on mower on Thursday afternoon, he nearly found himself face-to-face with a far grimmer reaper.

As he clipped the grass at the back of his home in the coastal village of Walcott, Norfolk, he inadvertently reversed over a 30ft cliff. Man and machine tumbled over the edge but, fortunately for Madeira-born Mr Dacosta, they landed separately.

Even more fortunately, he escaped with a few cuts and bruises.

Despite his near-death gardening experience, Mr Dacosta is planning to travel to Venezuela next week to visit his brother and sister whom he has not seen for 48 years. And he is determined to remount the mower - which he has had for only two weeks - once a few parts are replaced.

---
Nude Gardening
Thursday, February 1, 2007 Metro.uk

Naked man
A man has gone on trial accused of gardening in the nude.
30-year-old Yan Price appeared in York Crown Court on Tuesday, where the court heard claims that his neighbours were shocked to see him mowing the lawn entirely naked.
One neighbour, a young mother, said: 'I felt intimidated. You could see everything.'
'She could see the defendant out in the garden and he wasn't wearing a stitch of clothing. He was completely naked using the lawnmower,' said Howard Shaw, prosecuting.
Price's neighbours have complained about him sunbathing in the nude before, during an alleged two-year feud which saw Price given an Asbo preventing him from speaking to his neighbours.
He is also charged with breaching that Asbo.
Price denied the charges of indecent exposure, claiming that he had merely been mowing the lawn wearing a towel when, as he tried to fix a fault with the machine, his towel slipped off.

---
Strange but True
COPENHAGEN (Reuters) - A Danish biotech company has developed a genetically modified flower that could help detect land mines and it hopes to have a prototype ready for use within a few years.

"We are really excited about this, even though it's early days. It has considerable potential," Simon Oestergaard, chief executive of developing company Aresa Biodetection, told Reuters in an interview on Tuesday.

The genetically modified weed has been coded to change color when its roots come in contact with nitrogen-dioxide (NO2) evaporating from explosives buried in soil.

Within three to six weeks from being sowed over land mine infested areas the small plant, a Thale Cress, will turn a warning red whenever close to a land mine.

---
More than a Beatle? ROBIN YOUNG AND MICHAEL HORSNELL
At home in Friar Park, Henley, Oxfordshire, George Harrison devoted much of his resources to restoring the garden. The house was commissioned in 1896 by a Victorian eccentric and plant enthusiast, Sir Frank Crisp, to whom Harrison the former Beatle dedicated The Ballad of Sir Frankie Crisp. The centrepiece of the rock garden had been a 30ft model of the Matterhorn built from 7,000 tons of Yorkshire stone.

Crisp claimed to be a scholar of the history of gardening and planted his large collections in plots designed as replicas of renaissance and medieval gardens. Crisp was also famous for having an unrivalled collection of garden gnomes, some of which survived to feature on the cover of All Things Must Pass, Harrison's first solo album after the Beatles split.

After Crisp's death, the garden had fallen derelict, his alabaster topped Matterhorn devoid of plants. When Harrison bought the 120 room house, an extravagant piece of Gothic revival architecture with turrets, towers and gargoyles, for £200,000 in 1971, he set about restoring the 30 acres of gardens with their network of subterranean passageways, waterfalls, lakes and the five caverns where the gnomes were displayed.
---
Surfin in the shed?
LONDON (Reuters) - A British man who became stuck in his garden shed while surfing the Internet was rescued after his online plea for help was picked up by an American stranger.

Pranksters bolted Stephen Riley, from Lancashire, into his shed while he was using his computer at about four o'clock in the morning, the Daily Telegraph said on Saturday.

No one heard his frantic cries for help so in desperation he sent a message to an Internet chat room asking that anyone out there call the Lancashire Police.

His plea was picked up by an Internet user 5,000 miles away in the United States who called police -- much to their surprise.

"When the police said they had been called out from someone in America, I was amazed," he told the paper. "It goes to show the power of the Internet."
---
Compost Cops
Police mistake compost bins for thieves and end up with egg on their faces
By Beth Jones
For the police who smashed their way into a garden in search of two fugitives, it was not just a case of egg on their faces, but potato peelings, banana skins and coffee grounds too.
Mistaking two 3ft compost bins for thieves on the run, officers forced their way into the garden and caused almost £700 worth of damage.
Thermal-imaging equipment on board a police helicopter had told them that two heat sources in the undergrowth of a garden in south London were their suspected car thieves.
But once officers had traversed the trampolines and toys, all they uncovered were two steaming piles of rotting vegetable peelings.
"It was a complete joke," said Piers Smith, 41, a father of four and the owner of the house and garden in Furzedown.

---
Wandering gnome
CAMBRIDGE CP -- When Gnorman the garden gnome went missing in July, its owner Myra Plantz figured the little guy was the victim of vandals and gone for good. But the garden ornament returned this weekend, wearing a shiny new coat of paint and bearing gifts and photos from a recent trip that apparently took him as far away as Cuba.

The gnome's return marked the end of a light-hearted prank that included letters and postcards from the travelling lawn ornament. "I never thought they'd come back, never dreamt this until I got the first letter,'' said Plantz, of Queenston Road in Cambridge.

The letter said Gnorman -- who had never had a name before -- was going to his "gnephew's gnuptials.'' After that, he was going on a trip somewhere warm.

Soon after Gnorman disappeared, the Plantzes got a postcard, saying he was having fun on his travels. He had met up with his old friend Gnewman, the letter said, and they were both in Cuba.

When Gnorman reappeared on the family's front lawn this weekend, he had a red bag with him, containing a garter belt, sand and seashells; a photo album, and one final letter. And he wasn't alone. Gnewman, a gnome the Plantzes had never seen before, was with him. "We found the souvenirs, then the album,'' Plantz said.

Plantz said her neighbours have been curious about the gnome gnappers.
Everyone wants to know who took Gnorman.
---
Brit Kitsch
Among the hallowed relics of the British Empire facing the dustbin of history: the garden gnome. Can these millennial makeovers, now in British stores, save the wee folk?
Instead of being posed on toadstools, some are on micro scooters.
A Westminster bookstore has created gnomes in the likeness of Tory leader William Hague (hoisting a pint), Home Secretary Jack Straw (armed to squirt weed killer) and PM Tony Blair (big ears).
Rather go to Rome than gnome? One firm has modelled its puckish ornaments on Russell Crowe in his gladiator outfit.
Is nothing sacred?
---
Nude Gardeners
In August 1996 Robert Norton, 73, was arrested for at
least the 13th time since 1981 on public nudity charges while out working
in his yard in Pekin, Ill. And in Brooksville, Fla., in August, Carolyn
Sparks, 48, received a citation for raking topless in her front yard. (In
November, a jury said her behaviour did not amount to disorderly conduct.)
---
Garden Robot
WELLINGTON (Reuters) - Tired of mowing the lawn? New Zealand researchers say they have a device that could make your neighbors green with envy.

It's a lawnmower operated via the Internet. The robotic grass cutter is controlled through a web page which monitors the mower by a small camera on the side of a house. "What our technology allows us to do is to control lawnmowers and other robotic devices while people are away at work," Massey University's Glen Bright told Reuters.

The electric mower, smaller and more compact than a normal mower, moves in a sequence across the grass, stopping in places that require trimming.
It motors out once during the day and then again at night with the computer directing its every move.

The mower should be up and trimming by the end of the year and commercially available soon after that, Bright said. The device needs physical boundaries to navigate but by the end of the year it will be able to self-navigate and adjust to different grass heights as well as carrying out gardening tasks such as soil testing, he said.

The mower was developed in collaboration with lawnmower and chainsaw company Husqvarna, part of the Sweden-based AB Electrolux home appliance maker.
---
More Nude Gardeners
Women's naked farming ritual brings rain August 16 2002
Some 200 women in Nepal who ploughed their fields naked in a desperate attempt to bring rain to their drought-stricken region were rewarded as the monsoon began shortly afterwards, a report said yesterday.

The women had last week locked their husbands inside their houses and then stripped off to till their fields at midnight in a bid to appease the Hindu god of rain, Indra.

The superstitious women were trying to bring showers to the far western Banke district, where the monsoon had failed to materialise and farmers had been unable to plant rice.

Days after the naked ploughing, it began raining in western parts of the country and it seemed the rain god Indra was finally appeased, the Nepali-language daily, Nepal Samacharpatra said.

Local official Rajesh Kumar Mahato from the neighbouring Dhangadhi district told the newspaper some places in the region had 197mm of rainfall at the weekend.
The ritual had worked so well that excessive rainfall caused roads to become flooded.
---
Shadow of death falls on groundhog.
Wiarton Willie lying in state after sudden death:
WIARTON, Ont. (CP) - Children gathered to hear the word on the weather from their favourite furry forecaster burst into tears Tuesday upon news that Wiarton Willie was dead. The trusty groundhog died in his sleep of natural causes Sunday night, just days before he was expected to make his annual Groundhog Day prediction. His death was kept a secret until Tuesday, when a crowd of 200 arrived under overcast skies to hear the annual weather prognostication from the plucky rodent.

"We didn't really know what to do," said Sam Brouwer, Wiarton Willie's caretaker for the past 10 years. "We were absolutely devastated."

Willie was lying in state in a pine coffin for a public viewing this morning. His paws were crossed, there were pennies over his eyelids and he was clutching a carrot. But Willie didn't die without making a last weather prediction. South Bruce Peninsula Mayor Al Given said the "spirit" of Willie told him there would be an early spring.
---
A wheelbarrow theft ring?
This sign is one of three that were posted in my neighbourhood in November of 2000. As of January 14 it was still there. I'm guessing the wheelbarrow fell off a truck.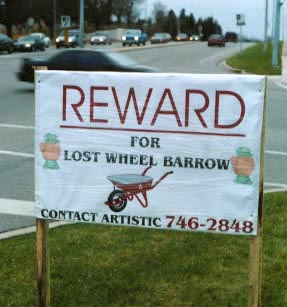 ---
Some compost pile!
Call it a blooming of goodwill. Call it what you may. But Los Angeles County officials aren't going to have Tim Dundon's 40-foot-high compost heap in Altadena demolished any time soon.

Local officials have granted a reprieve to a four-story-high compost pile in Los Angeles County. Over the years they have tried to get the 27-year-old, 40-foot pile of decomposed mulch, kitchen waste and dung demolished, but relented last week after a meeting with the heap's creator, Tim Dundon, and his supporters.

The impressive pile dwarfs Mr. Dundon's home in Altadena and nourishes his beloved one acre jungle of cactuses, azaleas, and banana trees, reports the Los Angeles times. "Everyone in the community loves this place, and we're hoping to find a way to keep it," said the deputy county supervisor, Kathryn Barger.

Dundon, an eccentric folk hero in the Altadena hills, said he was delighted. "I think everybody sees the benefits of this super-cosmic pile being here," he declared after the meeting. "Pressure from the public and press is paying off." Los Angeles Times

---
Aircraft to pollinate flowers?
Okendra Singh, an agriculture graduate, has entered the Guinness Book of World Records by growing a skyflower more than sixty feet (18.3 metres) tall — three times its normal height. He used bamboo poles to support the plant and has been nurturing it since 1985. Mr. Singh plans to grow the skyflower to sixty metres, says Reuters, but this may cause problems at the nearby airport.
---

Nude Gnomes
BARNSLEY (Reuters) - A man has covered up his lewd garden gnomes with painted-on swimwear after police warned him he faced arrest for causing public offence.

While most garden gnomes fish or enact scenes of bucolic tranquillity, ex-army sergeant Tony Watson's models in Barnsley, South Yorkhire, bared their breasts and buttocks, prompting complaints from the public.

"It is an offence to display something that is insulting or likely to cause distress," a police spokeswoman said on Wednesday.

"Although some people view the gnomes as a bit of harmless fun, we have to take complaints from members of the public seriously."

One of the gnomes now sports a polka-dot bikini, said local resident John Threlkeld, who passes the gnomes every day on his way to work.

---

Gnome gnappers?
LILLE, France - Garden gnomes are disappearing again in France now that a spoof group idolizing Snow White and the Seven Dwarves has resumed its campaign to "liberate" the statues from flower beds and well-kept lawns.

The Garden Gnomes Liberation Front (FLNJ), which operates seven-member night-time "commandos" to snatch the gnomes, has made off with a dozen ceramic dwarves this week around Dunkirk, near the Belgian border, residents say.

The masked raiders declared a "truce" in January after rounding up about 30 gnomes in Normandy and "freeing" them in local forests, presumably to return to the normal life of a story-book dwarf.

In each of the latest abductions, the FLNJ left a message saying: "Dear Papa, Dear Mama -- I was happy with you but now I have to leave you. Signed: your garden gnome." One message said the FLNJ wanted to "re-educate" the dwarves.

Local police said they had not launched any investigation into the wave of gnome-snatching because no owner has come forward with an official complaint.
---
Chinese soldiers turn swords into ploughshares?
The rake and hoe platoon must be right behind -- if only.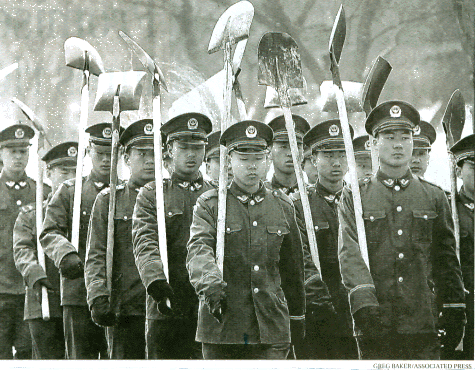 ---
Bone meal bonanza!
Researchers at the University of Arkansas have found that performing yard work at least once a week appears to be one of the best ways to build and maintain healthy bones. Using a complex method of statistical analysis, they found that women aged fifty and over who worked in the garden and those who lifted weights had comparable bone density. The results are considered important, says The Hartford Courant, because exercise is an effective way to prevent the bone loss disease osteoporosis, many women at greatest risk have a hard time choosing and sticking to a regimen.
---
Pop the kettle on, Violet!
Green fingered Lindley woman Violet Farmary has revealed the secret of her success. She says the reason she has been able to grow giant hydrangeas is tea!
Community minded Mrs Farmary, 66, looks after the gardens in front of the maisonettes where she lives in East Street. And passers-by often stop to marvel at the massive hydrangea blooms, in red, pink and blue. The biggest is 4ft tall, with a 14.5" flower head.

Mrs Farmary said: "I've been here 36 years, and I started to grow hydrangeas then. Many people cannot pass without touching them and commenting. They are amazing. I've never seen any others as big. I look after the gardens for everyone, as some of the other residents are elderly. "She added: "I water them every day and feed them plant food. I also sprinkle the tea from old tea bags on to the soil. A friend gave me the idea years ago - and it must work when you look at the results. "I don't know if other gardeners do it, but it hits the spot for my hydrangeas!"
---
Shaky Shed!
June 21, 2000 Explosion injures 2 in Belfast garden shed!

BELFAST, Northern Ireland (CNN) -- A father and son were injured when an explosion ripped through the roof of a garden shed in a staunchly Catholic Belfast neighbourhood Wednesday. Police moved in quickly to seal off the area around the blast, and the two men, ages 59 and 29, will be questioned by police. Both men suffered head injuries.

Northern Ireland's police force, the Royal Ulster Constabulary, said it was not yet known whether the explosion behind a house in the west Belfast neighbourhood of Ballymurphy might have been caused by a gas leak or was related to "growing" (my quotes) tension between Northern Ireland's paramilitaries.
---
The Cyber-gardener!
www.myveggiepatch.com offers all the thrills and spills of cultivating your very own crop of turnips without any of the attendant dirt or hard work. Those with herbaceous hankerings can log on and order a personalized vegetable patch, specifying which vegetables they wish to grow, and in what quantity. The patch is then planted at a real farm in Suffolk, England, allowing the proud owner to log on at to see how the crop is doing.

When harvested, the goods are delivered to your home. The cost? Up to £995 ($1454) for an organic patch.
---
Monster Mushroom!Tree killing mushroom is largest living thing ever found! News-Journal Wire Services.

Beneath the soil of the Malheur National Forest in eastern Oregon, a fungus that has been slowly weaving its way through the roots of trees for centuries has become the largest living organism ever found.

The Armillaria ostoyae, popularly known as the honey mushroom, started from a
single spore too small to see without a microscope and has been spreading its black shoestring filaments called rhizomorphs through the forest for an estimated 2,400 years, killing trees as it grows. It now covers 2,200 acres.

"We ended up having on the landscape this humongous fungus," Tina Dreisbach, a botanist and mycologist at the U.S. Forest Service's Pacific Northwest Research Station in Corvallis, Ore., said Friday.

In 1992, another Armillaria ostoyae was found in Washington state covering 1,500 acres near Mount Adams, making it the largest known organism at the time.

"We just decided to go out looking for one bigger than the last claim," said Gregory Filip, associate professor of integrated forest protection at Oregon State University and an expert in Armillaria. "There hasn't been anything measured with any scientific technique that has shown any plant or animal to be larger than this."

Forest Service scientists are interested in learning to control Armillaria because it kills trees, Filip said, but they also realize the fungus has served a purpose in nature for millions of years.

The outline of the giant fungus, strikingly similar to a mushroom, stretches 3.5 miles across, and it extend an average of three feet into the ground. It covers an area as big as 1,665 football fields. No one has estimated its weight.

The discovery came after Catherine Parks, a scientist at the Pacific Northwest
Research Station in La Grande, Ore., in 1998 heard about a big tree die-off from root rot in the forest east of Prairie City, Ore.

Using aerial photos, Parks staked out an area of dying trees and collected root
samples from 112.

She identified the fungus through DNA testing. Then, by comparing cultures of the fungus grown from the 112 samples, she determined that 61 were from the same organism, meaning a single fungus had grown bigger than anything anyone had ever described before.

On the surface, the only evidence of the fungus are clumps of golden mushrooms that pop up in the fall with the rain.

"They are edible, but they don't taste the best," said Dreisbach. "I would put lots of butter and garlic on them."

Digging into the roots of an affected tree, something that looks like white latex paint can be seen. These are mats of mycelium, which draw water and carbohydrates from the tree to feed the fungus and interfere with the tree's absorption of water and nutrients.

The long rhizomorphs that stretch as much as 10 feet into the soil invade tree roots through a combination of pressure and enzyme action.

The huge size of the fungus may be related to the dry climate in eastern Oregon,
Dreisbach said Friday. Spores have a hard time establishing new organisms, making room for the old-timers to spread.
---
Landmark Shed
A Warwickshire man has angered some of his neighbours by building an elevated shed next to his house.

Richard Cox had to move his garden shed, which was originally in his front garden, after his neighbours in Binton complained.

He found a solution by moving it to the side of the house and placing it on a 1.4-metre-high platform.

The planning section of Stratford-on-Avon District Council said the front-garden location broke regulations, but the side location did not.

Mr Cox said the only other possible location on his property was on the other side of a grass strip that becomes water-logged in winter.

Neighbour Dennis Ackerman is one local resident who sees some humour in the situation, saying the shed is a great landmark.

"What I do find is I can tell people who are coming to visit me: 'Look for the high-rise shed. I am next door!'"

The council said the current location is perfectly legal, so there is nothing that can be done to remove it.

Council spokesman Mark Lepkowski said the planners were not too keen to discuss the issue, as it might attract attention to an unusual location for garden sheds.

The shed is legal as long as it is not in the front garden and is not more than four metres high, he said.
---
Monster Hedge
LONDON (Reuters) - Monster fir trees dubbed "the scourge of suburban Britain" may be cut down to size under plans to ban towering garden hedges.
Parliament will be asked Wednesday to back plans to outlaw oversized Leylandii trees, which have provoked scores of disputes between neighbors.

Legislator Stephen Pound wants the law changed to allow people to apply to their local council to have hedges cut down to size.

"It is something the government is supporting," a spokeswoman for the Labor member of parliament told Reuters. "It looks likely that it will go through."

If it becomes law, the High Hedges Bill would enable local authorities to take a chainsaw to problem hedges if mediation between neighbors fails.

Cheap and fast-growing, Leylandii can reach 12 meters -- bringing privacy to those who plant them, but often angering their neighbors.

In one high profile case, a middle-aged couple in eastern England were jailed for 28 days in August after cutting down their neighbors' hedge.

Campaigners who say the "green giants" block light, bring down property prices and destroy views, welcomed the planned change to the law.

"We are delighted that at last there's some sign the government is keeping to a promise it made three and a half years ago," Michael Jones, founder of Hedgeline, a group which campaigns against Leylandii, told Reuters.
---
Bill and Ben, the original clones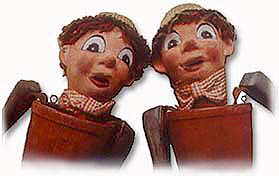 BEN the Flowerpot Man is back, safe and sound after surviving a watery ordeal.

The full-size figure -- made out of plastic flowerpots and rope -- is a firm favourite with toddlers attending the Elm House Nursery at Huddersfield University. The youngsters were upset when Ben went missing from his spot, fastened to a fence in the nursery garden on the Queensgate campus.

Staff were puzzled by the theft - especially as whoever took Ben didn't bother "kidnapping" his companion, Tin Lizzie, a character made out of old drink cans.
But a university lecturer yesterday saw Ben floating in the canal alongside the university at Firth Street.

Nursery manager Nicoletta Impagliazzo said: "Ben was made by the husband of one of the nursery staff and has been in the garden about two years.
He seems no worse for his ducking in the canal."
---
Stow the Mower
MAN FACES CHARGES FOR CUTTING LAWN
(Connecticut) - A city man who allegedly cut a neighbor's lawn because he thought it was an eyesore was charged with trespassing, police said.

Ken Costello, 49, was charged on a warrant with first-degree criminal trespass concerning a recent incident in which the owner of an Opal Street business complained that someone trimmed his trees and cut his grass without permission.

The property owner reported to police that he suspected Costello, who operates an adjacent business, had completed the unauthorized landscaping, the arrest warrant affidavit says. Costello had been told to stay off the property that he entered to cut the grass, police said.

When police questioned Costello, he denied cutting trees but admitted he had cut the grass, saying he did so because "he thought it was an eyesore," the warrant affidavit says.
---
Sexy Garden
BERLIN (Reuters) - Human sperm become excited when exposed to the scent of lily of the valley, doubling their speed and homing in on the aroma, a German scientist said on Wednesday.

Hans Hatt, a biology professor at Ruhr University in Bochum, said knowledge about a newly discovered odor receptor on the sperm's surface could enable researchers to devise alternative contraception methods or ways to boost fertility.

"This is the first time sperm has been shown to respond to smell," Hatt, who said the findings came after three years of study, told Reuters. "The application of the substances in a salve to the vaginal area could raise the chance of conceiving."

He said receptors in the sperm's membranes are attracted to two chemical compounds, cyclamal and bourgeonal, used in the cosmetics industry to imitate the plant's smell.

Another compound, undecanal, was found to block the attraction and could be used for contraceptive ends, he added.
---
Whistling Carrots
In 2002 the British supermarket chain Tesco, as an April fool's joke, published an advertisement in The Sun announcing the successful development of a genetically modified 'whistling carrot.' The ad explained that the carrots had been specially engineered to grow with tapered airholes in their side. When fully cooked, these airholes caused the vegetable to whistle.
---
Deadly Hedge (definitely not amusing)
Police guard injured neighbour after fatal shooting

A man remains under police guard in hospital after his neighbour, said to have been involved in a long-running dispute over a garden hedge, was shot dead.

George Wilson, 66, was found with bullet wounds at his home on Friday
afternoon, and died shortly after being taken to hospital.

His 52-year-old next-door-neighbour was later discovered injured and
was also taken to hospital.

As police forensic officers continue to search the area, neighbours say the pair had a dispute over a hedge which ran along the border between the front gardens of their homes, in Webster Close, Lincoln, UK.

One neighbour, who did not want to be named, said Mr Wilson, who he had known all his life, had been involved in several arguments over his garden hedge.

Michael Green, 48, who lives only a few doors from Mr Wilson's home, said police asked him to leave his house yesterday and stand at the end of the street while the incident was sorted out.

The shooting is believed to have happened at about 3.30pm. At 6.45pm police discovered the second man, who was also injured. He was taken to an undisclosed hospital, but the extent and nature of his injuries has not been disclosed.

Scene of crime officers are expected to remain in the street over the
weekend and uniformed officers are carrying out house-to-house
inquiries.

A police spokesman said: "The 52-year-old man who was taken to hospital yesterday is under arrest and with a police guard. For operational reasons we still don't wish to disclose which hospital he is being treated at or the nature of his injuries.

"However his injuries are not thought to be life-threatening. He will be questioned as soon as he is discharged from hospital. We don't know when that will be."
---
Villagers Baffled by Gnome Attack
Villagers were baffled when they awoke to find their homes invaded by garden gnomes.

The fourteen home-owners couldn't believe their eyes when they saw there lawns covered with the statuettes

Dopey pranksters have been blamed for the incident, which left residents mystified as to who brought them into Brattleby, Lincolnshire.

The gnomes - normally a target for burglars who swipe them from gardens - were unwelcome visitors to the conservation village, claims one man.

Neighbourhood Watch co-ordinator Mike Spencer said he awoke on Tuesday morning to see one of the gnomes in the garden.

The 59-year-old chairman of Brattleby parish council said: "It is a bit of a mystery. It is such an odd thing to happen.

"The people down the far end of the village say our end is the posh end and I have a sneaking suspicion it is someone from the other end of the village.

"I absolutely detest gnomes and the majority of people living in the big houses would not want gnomes in their gardens either."

He said he had collected up a number of the little men and hidden them in his garage but he said everyone had taken the prank light-heartedly.
---
Extinct Fruits
With names such as the Hens' Turds apple and the Bloody Bastard pear it is perhaps little wonder that ancient varieties of British fruit are struggling to survive.

But a rescue project by the Environment Agency is saving some of the more colourful elements of our fruit-growing heritage from extinction.

Some names verge on poetry - Gilliflower of Gloucester, a dessert apple found in the Saul area; Port Wine Pippin and Arlingham Schoolboys, named after a village whose last tree died in the late 1990s.

Other varieties, however, owe their names to rather saltier language.

The Shit Smock plum derives its sobriquet from the unpleasant after-effects of over-indulging on the small, green fruit.

Scarcely more appealing are the Hens' Turds or the Bloody Bastard, the origins of which been lost in the mists of time. All the apples are deemed to be critically endangered, growing in fewer than 10 sites.
---
Naked Gnomes Cover Up
By Paul Stokes
A former Army sergeant has been threatened with arrest after a complaint that his five garden gnomes were too cheeky.
A police officer in Barnsley, S Yorks, told Tony Watson, 41, that he could be reported under the Public Order Offences Act and the two-feet-tall ornaments confiscated unless he removed them. His collection includes one peeing in a bucket, a female gnome fully exposed and another revealing her breasts. Mr Watson, a builder's labourer, has now concealed the offending areas with plaster and paint.

---
Willow Thief Foiled

Oct 1 2004 Huddersfield Daily Examiner

A MAN battled with a teenager he caught stealing his weeping willow tree. The man, in his 30s, looked out of his window and saw three youths in his garden on The Ridgeways, Linthwaite, just after 10pm last night. One was uprooting the tree and others were digging up plants and damaging wooden trestling. He wrestled with one of the thieves and they all fled empty-handed after throwing things at the victim. All the youths are aged 15 to 17. One is 5ft 9in tall, with a thin face and square jaw. He wore a white baseball cap with red and blue on it and a dark, Gortex- style jacket with a small white motif on the front. His two accomplices wore hooded tops.