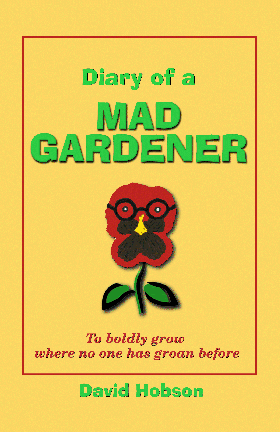 This book is much funnier than the terrible jokes below
Terrible Gardening Jokes


The best way to garden is to put on a wide brimmed straw hat and some old clothes. And with a hoe in one hand and a cold drink in the other, tell somebody else where to dig.

---

How to stop a dog from digging in a garden. Start right! Never let the dog see you digging . . . Doggy see, doggy do

---

Successful bonsai grower had to move to a house with a smaller garden.

---

Someone keeps dumping soil all over my allotment. I don't know who's doing it; the plot thickens.

---

Grass is just a flower bed in waiting

---

Why do melons have fancy weddings? Because they cantaloupe.

---

Two friars are having trouble paying off the belfry, so they open a florist shop.
Everyone wants to buy flowers from the men of God so business is quickly booming.
The florist across town sees a huge drop in sales and asks the two friars to close their shop,
but they refuse.
A month later the florist begs the friars to close because he's having trouble feeding his family.
Again, they refuse, so the florist hires Hugh McTaggert.
Hugh is the roughest, toughest thug in town and is hired to "persuade" the friars to close.
Hugh asks the friars to close their florist shop.
When they refuse, he threatens to beat the crap out of them and wreck their shop every day they remain open, so they close.
This proves once again that Hugh and only Hugh can prevent florist friars. ~
Paul
---

Grass is just a flower bed in waiting

---

New gardeners learn by by trowel and error.

---

AD for ant traps. "Will kill ants for 3 months."
. . . do they come back to life then as zomby ants?

---

I left packet a of seeds in my pocket and my coat turned into a Chia jacket

---

Compost is best aged a little like a fine wine. I mean, would you prefer to drink a nice 97, or something that was made last Thursday.

---

Grow your own dope........Plant a man ~Faye

---

If I could only grow green stuff in my garden like I can in my refrigerator

---

Two older ladies were sitting on a park bench outside the local town hall where a flower show was in progress.
One leaned over and said, "Life is so boring. We never have any fun anymore. For $5.00 I'd take my clothes off right now and streak through that stupid flower show!"
"You're on!" said the other old lady, holding up a $5.00 bill.

As fast as she could, the first little old lady fumbled her way out of her clothes and, completely naked, streaked through the front door of the flower show.

Waiting outside, her friend soon heard a huge commotion inside the hall, followed by loud applause. The naked lady burst out through the door surrounded by a cheering crowd.

"What happened?" asked her waiting friend.
"Why, I won first prize for Best Dried Arrangement."


---

The cat was hoist on his own petard
while swinging from trees in the yard
he did many tricks
even pausing for licks
but got hung out on his own leotard

---

Gardening Rule:
When weeding, the best way to make sure you are removing a weed
and not a valuable plant is to pull on it.
If it comes out of the ground easily, it is a valuable plant. ~ Joan

---

I'm a gardener and I'm OK
I sleep all night and I plant all day!
I dress in grubby clothing, and hang around with slugs.
Oh I'm happy in the garden
With dirt and plants and bugs . . .
(to the tune of Monty Python's "I'm a Lumberjack")

---

Why do potatoes make good detectives?
Because they keep their eyes peeled.

---

A toddler who was found chewing on a slug.
After the initial surge of disgust the parent said,
"Well . . . What does it taste like?"
"Worms," was the reply.

---

Spring does not arrive until the ice is out of the compost heap.

---

Winter does not arrive until the ice is IN the compost. Until then, all
bets are off. ~ Ellen, MG.

---

Another unwritten rule of gardening -- any self-respecting rock will break at least one shovel before accepting its new home.

---

Compostaphile and Compostaphobe -- To rot or not to rot . . .

---

Headline: Dog attacks topiary cat.

---

Sometimes what a man says, says more about the man.
Here is a quote from President George Bush in 1990:
"I do not like broccoli. And haven't liked it since I was a little kid and my mother made me eat it. I'm President of the United States and I'm not going to eat any more broccoli.". . . Umm!

---

A weed is a plant that has mastered every survival skill
except for learning how to grow in rows.

---

The four seasons are salt, pepper, mustard and vinegar.

---

Knowledge is knowing a tomato is a fruit;
Wisdom is not putting it in a fruit salad

---

Why are husbands like lawn mowers?
They are difficult to get started, emit foul smells and don't work half the time.

---

Every garden is unique with a multitude of choices of soils, plants and themes. Finding your garden theme is as easy as seeing what brings a smile to your face -- Teresa Watkins

---

A good compost pile should get hot enough to poach an egg,
but not so hot it would cook a lobster.

---

Gardening requires a lot of water - most of it in the form of perspiration.

---

A Veggie New Age Song:
Peas would rule the planets, and love would clear the bars.
It was the dawning of the Age of Asparagus, age of asparagus

---

The difference between weeds and flowers is the weeds are the easiest ones to pull out.

---

What's green and walks through walls? Casper the friendly cucumber.

---
Man at the market: "My wife asked me to buy ORGANIC vegetables. Have these been sprayed with any poisonous chemicals?"
"No," replied the gardener,"you'll have to do that yourself."
---
Like to laugh? See more here

See here for funny stories
The Garden Humour Website.
Any resemblance of characters to persons living, dead,
or on a compost heap is purely coincidental
Home
All pages copyright ©1998/1999/2000/2001/2002/2003/2004-2014 and beyond
Email David Hobson






DMG



Mad Gardeners



Dibble's Daily Diary



Newspaper



Contests



Soiled Reputations



Garden Tour



Garden News



Bugs



Stories



Cat Poll



Jokes



About Me



Scratch n Sniff



Links



Garden Survivor


Past Contests
Worms
Garden movies
Garden songs
Tee Shirts
Gardening outfits
Weird planters
Gardening too long
Garden Clubs
Zuchinis
Strange garden
Bizarre Headlines
Survivor
Buried in a garden
Unlikely books
Site Search
Home
Garden Treasures
Site Search
Home
Email