Home | The Antrim McKentys | Quebec McKentys | John McKenty & Mary Blaney | The Hughs of Amherst Island | Henry McKenty & Bridget Mooney | More Ontario Kin | New York State Kin | More American Cousins | The Library Room



Found yet Lost ?

The individuals/families in this section have been traced but I'm not sure which branch of the family tree they belong to. Perhaps you can help us out. Please let us know if you can place them.
The Toronto Directory 1878 has R.P. Lahey and J McKenty "dry goods and gent' furnishings.." 115-117 King St E. The Directory for 1879 also has a John McKenty, entry clerk 203 Yonge St....could this be John who ended up in Hamilton? and a John McKenty, salesman 103 Yonge St.

Alexander McKinty age 21 was buried in St Mary's Cemetery Kingston Ontario in 1880. A Neil McKinty, age 22, who may have been Alex's brother , was buried there in 1892.
A John Hugh McKenty of Wallaceburg Ontario died in 1975. His wife Bernice Tugwell Mckenty passed away February 2004

In British Columbia there are a number of McKinty death registrations including;
William age 43, Jan 3 1927
William ,age 63, June 15 1931
William, age 53, August 27, 1963
William age 91, September 6 1977
Florence Mary McKenty age 76 March 24, 1956
Archibald age 61 April 4 1946
Eleanor age 85, July 23 1963
Jack, age 68, May 31, 1976
John Archibald, age 68, May 5 1976
I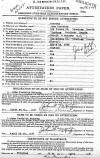 have the World War I Attestation Paper for John Frederick McKenty. I think I know which branch but I need some confirmation from related kin. Just click on the accompanying thumbnail

At the right is a thumbnail of John McKenty. He was a graduate of Assumption College, Windsor Ontario, in 1939.
I have the WWI Attestation papers for a James Francis McKinty, born in Belfast 1894, and living in Guelph Ontario at the time of enlistment. His mother may have been Mary Ann.
I have another WWI Attestation paper for William McKinty, born Feb 29 1884 in Balleyldeward? Mughevanione Antrim. His mother was Isabella and he registered in Victoria British Columbia in 1915.
Another WWI enlistment paper is for a Frank McKenty. His surname could have been Coan. His sister, next of kin, was listed as Miss Coan. He was born in Kingston Ontario, living in Chicago.


There is a marriage registration dated June 1897 for a John McKenty 26, and Bridget McNulty 24 . He was a miner at the time in Rainy River. It says his father was John. Apparently he also had a sister Annie McLeod McKenty of Regina who helped validate the late birth registration of John and Annie's son John Charles, born Nov 9 1898. They could be from the Hamilton families
The Kingston 1881 census records for Frontenac list a John McKenty age 60 and his wife Mary Dobbie (Scotland) 48. with their children Patrick 29, Alfred 13, and Neil 12. They may also have had a son John. I have a death registrations for Alfred, June 20 1911, son of John and his wife Mary. Their son Patrick..maybe the one below

Patrick and Mary Burke McKenty A marriage registration dated April 16 1883 indicates their son Patrick, a widower, married Mary Burke. Patrick says his mother was Mary Carr. I believe this is the same Patrick and his father John was married twice, accounting for the age difference in their children. It also says Patrick was born on Amherst Island ..I haven't found that birth registration.
Patrick and Mary had a daughter Clara Sept 27 1888, and Mary Ellen Dec 13 1884. The marriage registration record indicates Mary Ellen married James Vincent Joyce June 30 1906. Possibly connected, but nearly 50 years before was another Joyce/Mckenty marriage between Catherine McKenty, daughter of John and Catherine McKenty to John Joyce September 12, 1859 in Gananoque


In the 1891 census there is a Neil 20, living with his brother John 22, his nephew John 4 and his niece Clara?. . I believe these may also be related to John and Mary Dobbie

Catherine McKenty 1817 Antrim , d of Hugh) and Ann Murphy McKenty , married John McCarey Nov 1841 in Kingston. ..children Ann 1841 and Margaret 1845. . Witnesses were John Mooney, John McKenty and Mary McTaggart. If records are correct she seems to have married a second time to Patrick keyes.....children Catherine 1855, Patrick 1858, and Patrick? 1861
A book published in Alberta but seemingly unavailable here in Ontario has information on both the McKenty and Mooney kin. It would be greatly appreciated it if anyone who could check "A Giant Among Pioneers" by Gordon Puffer.
While we're asking about help, in the U.S. there is info on a Bernard McKenty who came to the U.S. in 1812. His declaration maybe contained in " British Aliens in the U.S. during the war of 1812" 8195 p168 by K Scott.. This maybe the same Bernard who owned a plantation in Jamaica and later returned to Antrim


Pictures from Ireland

| | | |
| --- | --- | --- |
| | | |
| Glenariff | Outside Antrim Estate | Carnlough |
| | | |
| Church of Ireland in Glenarm | Mullaghconnolly | Bray |
| | | |
| Templepatrick Dublin | Ruins at Layde | Layde Cemetery |
| | | |
| Layde | West Coast beach | Kinsale |
| | | |
| Sights | St Doulagh's | A Murphy Bed |
| | | |
| Rock of Cashel | Derry | Cliffs of Moher |
Some McKinty/McKentyTombstones in Ireland
| | | | |
| --- | --- | --- | --- |
| | | | |
| Patrick McKenty | Sarah&John | Dinnes Murphy | John&Letitia |
| | | | |
| Neil | Neal&Ally | Charles | Neal of Gortin |
| | | | |
| John McKenty | Henry and Martha | MacAllister & McKinty"s of Creggan | Archie |
See more tombstones on the family pages
Home | The Antrim McKentys | Quebec McKentys | John McKenty & Mary Blaney | The Hughs of Amherst Island | Henry McKenty & Bridget Mooney | More Ontario Kin | New York State Kin | More American Cousins | The Library Room
This site was last updated 04/16/10