i. ROSE MCKENTY, born December 25, 1852; d. December 29, 1939, Hamilton. Rose, according to burial records, remained single all her life. She was living at 168 Wentworth S. at the time of her death
ii. ROBERT JAMES MCKENTY, b. 1858.
iii. WILLIAM H MCKENTY, b. December 23, 1863; d. September 16, 1943, in Dundas; m. MARY?; d. October 23, 1950, in Hamilton, records from Dwyer Funeral Home and Spectator . There are also death notices for 2 children belonging to W McKinty one Oct 3 1891 "infant", the other Oct 10 1893 child 3mons ..address 50 Barton W Hamilton
iv. MINNIE MCKENTY, b. September 23, 1854, married Hugh Hickey in St Mary's Cathedral, Hamilton; d. October 26, 1937, Hamilton
v. THOMAS MCKENTY, b. 1855; m. MAGGIE JOSEPHINE MCCANN, June 21, 1881, St Mary's Cathedral Hamilton; She was born. September 03, 1854, Canada; d. October 26, 1937, Hamilton.
The marriage notice in the Hamilton Spectator says he was one of Hamilton's most successful grocers and she was the daughter of John McCann, a boot and shoe manufacturer on James St. In Josephine's birth notice Thomas is again identified as a grocer
vi. KATE MCKENTY, b. 1867. married ___McLeod, buried in Hamilton. She signed an affidavit verifying age etc for a John McKenty who was getting married in Rainy River

ii. CATHERINE MCKENTY, b. 1855.
I'm making a presumption here. On Catherineís wedding registration her made of honour was a Mme McKinty
The children's names in this family, as with other Mckenty/McKinty families , are strikingly similar
In Australia, where some family migrated, there was a Hugh McKinty who's children were Hugh 1880, Isabella Sarah 1888, Thomas 1883, and James ..There was another McKinty family, Thomas and his wife Ellen King with children Hugh 1875, John 1879, John Patrick 1870, Mary Ellen 1874, Rose Ann 1881 Thomas 1872


Irene, John Augustus and William McKenty
JOHN AUGUSTUS2 MCKENTY was born August 18, 1886, and died November 14, 1944 in Hamilton.
I'm not sure who the father was but Irene, William, and John Augustus McKenty were definitely siblings. This relationship is verified by information gathered from various death/news articles posted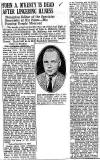 in the Hamilton Spectator. John was the managing editor of the newspaper for 20 years. He was a widower when he died but I haven't found evidence of children nor the name of his wife yet. John Augustine McKenty was apparently born in Hamilton and had been in failing health for over a year before his death. His wife had died a short time before. The family of John and Jane McKenty, outlined above, are buried near John Augustus in Holy Sepulchre Cemetery, in Hamilton Ontario
WILLIAM F MCKENTY, brother of John Augustus and Irene, was born in Hamilton, and died 1947 in Hamilton. He married GERTRUDE LA FOND.
Children of WILLIAM MCKENTY and GERTRUDE LA FOND
i. LORRAINE MCKENTY.
ii. BETTY MCKENTY.
iii. JANE MCKENTY.

William And Margaret McKenty
WILLIAM MCKENTY was born about 1800 in Ireland, and died June 06, 1897 in Peterborough Ontario. He married MARGARET MCKENTY. She was born about 1819 in Scotland, and died October 01, 1877 in County Of Peterborough.
The 1871 census of Canada page 9 Province of Ontario, District 58 North Peterborough, has William, 60 Ireland, Margaret 52, Scotland, and son John 20. The Times Business Directory And Book of Reference for The Town of Peterborough 1876 has John Mckenty lot 3 con12, Halls Bridge and Wm McKenty at the same location. To view click on the expandable thumbnail map at the left.


A book on South Harvey Communities says " In 1860, on the shores of Buckhorn Lake, William McKinty, an Irish Protestant, occupied lots 2 and 3, concession 12. His son John, continued farming and may have operated a lime-kiln on his farm . Both father and son served on council in the 1860's and 1870's and from 1902-1913. John married Annie Stockdale and had 4 children. A brother Bruce McKinty married Pearl Jones and had no children" P65 Pages 475-476 of the text lists more of their involvement as council members
There is a birth registration for Edwin Bruce, born Sept 4 1883 son of John McKinty Hotel keeper , and Ann Stockdale Hotel Keeper registered Sept 20 #028435. Their daughter Anne Maria was born August 24, 1874 but the birth was not registered till Jan 18 1877 !! 2 1/2 yrs after the event. I've heard of late registrations, ..
Margaret's death registration October 1877 indicates she was Methodist, born in Scotland, and had asthma for 6 days. William's death registration says he was 97yrs 11mons, born Co Antrim, was Presbyterian, lived on lot 2 Concession 12. He died of old age and had a "tumour of the eye"
Children of WILLIAM MCKENTY&MARGARET MCKENTY
i John McKenty
ii Bruce
Generation 2
. JOHN2 MCKENTY, was born July 04, 1852, in Ontario and married ANN
STOCKDALE She was born October 09, 1850, in England.
Children of John and Ann
i Ann born August 10 1874
ii Edith abt 1877
iii Margarita 1880
iv Edwin Bruce September 4 1883
The 1891 Census has William 89, living with John 38, Ann 38, Anne M. etc
Peterborough East Harvey Township. The 1901 census has John 48, Ann 50,
Margaret A 21, and Edwin Bruce 17. On Edwin's birth registration John and
Ann are listed as Hotel keeper On Anne Marie's John is listed as a farmer,
Harvey Township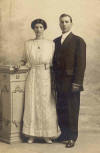 . BRUCE MCKENTY, m. PEARL JONES. They had no children. Apparently Pearl used to play the piano at the Anglican church in Buckhorn. There is a thumbnail expandable picture of Bruce and Pearl to the left.
<![if !vml]>

<![endif]>