John McKenty and Mary Blaney
1. JOHN'the Elder MCKENTY was born about 1795 in County Antrim Northern Ireland, and died April 26, 1885 in Ernestown. He married MARY BLANEY . She was born about 1791 in County Antrim and died February 25, 1881 in Ontario. The Blaneys and the Mooneys, another family connected to the McKentys lived around Carnlough and Cushendall in Antrim. Apparently a John and William Blaney left there for the Kingston area in 1840. A Donald Blaney and family lived by the McKentys on Amherst island

John and Mary were among the first families to settle Amherst Island. Books that refer to the early settlement of this island like " The History of Lennox and Addington County" by Herrington tell us "Among the first to settle were the Howards, Wemps, Richards , McGuinnesses, McDonalds, McMullens, Hitchens, Instants , and the McKentys." . Tales of Amherst Island by H.C. Burleigh adds more, " Here we find references to McCabe, Beauien, McMullens, McKentys, Crows, Nugent, and McCormicks , all true Island names " p87 . Land records from there reveal numerous transactions by the McKentys (Hugh and John) involving the leasing, renting, purchasing, and selling of land. During the 1837-8 rebellions John was listed as a member of the Volunteer Company. He is also mentioned regarding membership in the small group belonging to St Bartholomew Catholic Church on Amherst Island.
The 1851 census indicates John and Mary's son John 25 was born in Upper Canada. This would mean they came to North America in 1826 or earlier. This date is also supported by the fact there was a notification of a letter being held for John at the Kingston post office in the Kingston Chronicle dated Jan 17 1823. Browns Toronto General Directory for 1856 has John McKinty listed as a magistrate for Amherst island. The 1861 census of Ernestown Township has John 68, Mary 67, living in the 1st frame dwelling 1st concession lot 39 250 acres.

By 1871 the census indicates John and Mary were living off the Island in Ernestown with their son John 45, his wife Bethia, and their children. See the expandable thumbnail map to the left
The tombstone for John the Elder of A.I. and Ernestown says "In memory of Mary Blaney , wife of John McKenty died Feb 25 1881 ,age 89 / In memory of John McKenty died April 4 1885 age 93 , Natives of Co Antrim."
In the probated will from Surrogate Court, John is referred to as "the Elder". He left $100 to his wife Mary. She died before him so the will must have been made before her dearth and not revised. He cancelled promissory notes owed for $200 and $500 dated in 1874 and 1875 for his son-in-law Patrick McDermott who married his daughter Alice (deceased). The rest of his estate, property etc was left to his son John . .
Links/Connections
In Ireland, a Henry McKenty was a baptismal sponsor for Daniel, son of Dan Blaney and Ellen O'Neill ...and a John McKenty was a witness at their wedding in 1831. Other Blaney children include John 1832, Rose1834, Adelaide Louisa 1836. Could this be the same Dan Blaney who settled A.I. along with the McKenty families?
There is a John McKenty mentioned as sponsor in the birth of one or 2 of Henry and Bridget Mooney McKenty's children and it appears Henry lived/by/with John when he first came to Canada
John's neighbour Neil McMullen(1783-1861) was from Antrim as well and was a witness at the marriage of John " MacCanty" and Mary Blaney. Neil's wife was Bridget McAuley b Leade Co Antrim 1796-1873, daughter of Francis McAuley and Mary McCambridge
Children of JOHN MCKENTY and MARY BLANEY :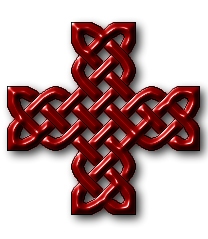 . i. JOHN2 MCKENTY, b. Abt. 1826, Ontario; d. January 21, 1912.
ii. ALICE MCKENTY, m. PATRICK MCDERMOT, February 13, 1851, St Patrick's
Railton.
Marriage records in Railton say Patrick was the son of Thomas and Mary McGarey McDermott. Witnesses were James Reddy and Catharine McTaggart
Generation 2
2 JOHN2 MCKENTY (JOHN1) According to the " 1861 Census for the Villages of Napanee, Newbury, Bath.. John was born, in Ernestown 1826, and died January 21, 1912. He married BERTHIA M RENNIE April 20, 1856 in Napanee Ontario. She was born Dec 2 1834?7 in Frederickburg Ontario and died September 15, 1902.
In 1851 he was farming on Amherst Island and by 1871 he and Berthia were in Napanee. All records indicate they were Irish and Catholic
The tombstone record in the Kingston cemetery reads " In memory of John McKenty, died Jan 21 1912 age 85 and Berthia M Rennie wife of John, died Sept 15 1902 age 67 R I P & Edith L Donogue &/Francis D McKenty 1876-1964."
The obituary for Bethia published in the Napanee Beaver reads" On Monday September 15at 362 Johnson St Kingston, Bethia Rennie, wife of John McKenty, late of Napanee, and third daughter of the late Robert Rennie of Napanee R.I.P. Bethia was a relative of the actor Michael Rennie
Children of JOHN MCKENTY and BERTHIA RENNIE are:
. i. JOHN3 MCKENTY, b. November 29, 1858.
. ii. ROBERT MCKENTY, b. December 11, 1862, Kingston.
iii. MARY MCKENTY, b. Abt. 1865.
iv. JAMES MCKENTY, b. May 19, 1866. Kingston records.. James "baptized June 18
born May 19 .. ...sponsors Cornelius Carolan & his daughter Grace Anna.. James may have
been a physician
v. MARGARET MCKENTY, b. July 11, 1867, Odessa; Baptismal records Kingston
"baptized Aug 31 , b. July 11 , sponsors John Rennie & Margaret Catherine Reine.. "
vi. HENRY MCKENTY, b. April 02, 1870, baptismal records Kingston "baptized April 22
1870 b. Apr 2 ,sponsors James O'Drain & Eliza Caroline. From the Death's from St Mary's
Cathedral. Kingston 1991..1868-1982... Henry age 3 died Mar 8 1873...
vii. ISABELLA ALICE MCKENTY, b. April 29, 1874 . Baptismal records show she was
baptized May 6 1874 .. St Patrick's Railton, Isabella, sponsors P Nugent and Mrs. Dwyer
viii. FRANCIS DANIEL MCKENTY, b. August 24, 1876, Bath , registration #018449. The
Railton baptismal records said David Francis McKinty of Bath was baptized Sept 17,
1876, sponsors were Edward Mckenty (Hugh's son!!?) and Jane Drain.
Generation No. 3
3. JOHN3 MCKENTY (JOHN2, JOHN1) was born November 29, 1858. He married MARY ANN BUTLER, daughter of TOBIAS BUTLER. The marriage records/newspapers tell us Mary Ann was the eldest daughter of Tobias Butler. The birth registration for their son Tobias, dated May 13 1890 in Napanee, says John was merchant at the time.

It appears John and Mary eventually moved out west, following the pattern of the offspring of other Mckenty families, including those from Henry and the Hughes of Amherst Island families. The 1901 census has John living in Lacombe W Alberta, with wife Mary Ann and children Tobias and Bethia E.
Children of JOHN MCKENTY and MARY BUTLER are:
i. TOBIAS JOHN4 MCKENTY, b. May 13, 1890 Napanee; d. April 07, 1964,
Vancouver.

ii. BETHIA ELIZABETH MCKENTY, b. November 15, 1888.
iii. JAMES MCKENTY, b. October 21, 1898.#023489
3 ROBERT MCKENTY (JOHN2, JOHN1) was born December 11, 1862 , baptized Dec 31 1862 in Kingston, sponsors were John McKenty SR & Mrs Rennie"

He married MARY MCGINTY born Eau Clair, Wisconsin
Child of ROBERT MCKENTY and MARY MCGINTY
. i. ROBERT JAMES4 MCKENTY, b. August 02, 1902, Chicago.
3 MARGARET MCKENTY (JOHN, JOHN) born July 11, 1867, married John Mugan June 27 1900 St Mary's Kingston. The record say Margaret was living in Kingston at the time and John was a professor. She was 26, both were RC , the witnesses were Chas Mugan (Morgan?)and Annie McKentee (note spelling) His parents were John and Catherine Mugan
(I had some problem reading the spelling of his surname)
3 ISABEL ALICE MCKENTY (JOHN, JOHN) born April 29 1874 married George M Price, Langdon Dakota, Jan 12 1904. The announcement was published in the Napanee Beaver and says she was the sister of John.
3 FRANCIS DANIEL MCKENTY( JOHN, JOHN) married Edith Louise Donoghue September 7 1904 in Kingston. The marriage registration says he was a practicing physician, an ear nose, and throat specialist in Manitoba. Witnesses were Sarah Donoghue and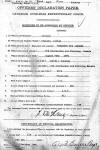 __McCormack. Francis served in WWI. His C.E.F. Attestation record dated Feb 1 1918 gives his address as 786 Dorchestor Ave. Winnipeg. His next of kin was his wife Edith. He belonged to the AMC with the rank of Captain. He was buried in Kingston in may of 1964, next of kin was his son Dr Stewart McKenty
Children of Francis Daniel and Edith Louise
i Frances
ii Dr John Stewart
3 MARY MCKENTY (John, John) married Edward Ignatius Donovan of Langdon North Dakota, son of Patrick Donovan and Ellen O'Connor , witnesses were Maggie McKenty and Edward McGrath
3 James McKenty was at one time president of the Canadian Medical Association and Chief Surgeon at St Boniface Hospital in Winnipeg. He may have had 4 daughters
Generation No. 4
Note: Some information and dates in the following have been removed to ensure privacy
4 ROBERT JAMES4 MCKENTY (ROBERT3, JOHN2, JOHN1) was born August 02, 1902 in Chicago. He married ALICE "SALLY" Culver in Chicago January 6 1933. Alice was born in Audubon Iowa Oct 13 1908.
Children of ROBERT MCKENTY and ALICE SALLY CULVER are:
i. ROBERT JAMES JR5 MCKENTY,
. ii. MARY MCKENTY.
4 TOBIAS JOHN MCKENTY (JOHN, JOHN, JOHN) . The WWI Attestation record which he signed September 7 1915 shows he was single at the time, a graduate law student, RC, living in Lacombe Alberta 5' 6 1/2", fair complexion, brown hair. Next of kin was his father now living in Lacombe. Tobias died in Vancouver April 7 1964. I'm not sure if he married.
Generation No. 5
5 ROBERT JAMES JR MCKENTY (ROBERT JAMES4, ROBERT3, JOHN2, JOHN1) was born in Chicago. He married MARY KOPPE. Bobs friends and family know he writes great verse
Children of ROBERT MCKENTY and MARY Christine KOPPE
i. PETER MCKENTY,

ii. MARY AGNES MCKENTY
iii. THERESA MCKENTY,
iv. JOHN MCKENTY.
5 MARY5 MCKENTY (ROBERT JAMES4, ROBERT3, JOHN2, JOHN1) She married
Lawrence John (Larry) Campbell.
Child of MARY MCKENTY and Larry CAMPBELL
i. CINDY6 CAMPBELL, m. MR LAIN. Cindy divorced __Lain and
married Christopher Lawless
Children of Cindy and Christopher
i Cassidy Alice
ii Campbell Michael Robert
Generation 6
6 MARY AGNES MCKENTY married John Charles Zellers

6 Cindy Campbell (Mary,ROBERT JAMES4, ROBERT3, JOHN2, JOHN1) married __ Lain. She later married Christopher Lawless
Children of Christopher and Cindy
i Cassidy Alice
ii Michael Robert born