Or, A Picture is Worth A Thousand Words except when the picture you have is a modular ch'ullu, and you don't have the pattern to make it yet.....
The Challenge
I'm not a naturally patient person when I get an idea in my head. I'd been patient with Ted about his hat pattern because, well, I'd been through a couple of big moves myself and know that one's priorities fall elsewhere in such an instance.
So, when Ted agreed to let me muddle the pattern out for myself because he just didn't have the time, I was happy to take up the challenge. There was only one problem -- I'd have to wait for the box with the hat and Ted's notes to arrive.
Or would I?
I had emails somewhere in my computer that contained some of the information for The Hat. And I had the photocopy of The Hat that Ted had sent me. I could try to puzzle it out for myself while I waited for the package of materials to arrive.
Thinking Shoes
Okay -- some people put on their thinking caps to work through a problem or idea. I put on my thinking shoes......running shoes, that is. I find I do my best thinking when I lace up my trainers and go out for a long run. So, that's what I did.
Sum Thawts
1. I like Ted's hat, but sometimes it reminds me more of the helmet that Jean Reno wore in the film "Les visiteurs". This is not a bad thing, but.....
2. when I think about ch'ullus, I think about painfully fine gauge knitting (something in the order of 9-11 stitches per inch) and lots of colours.
3. I've long been convinced that really fine gauge knitting is the direction my modular knitting should be moving in.
So you can see, these three ideas were percolating in my brain this morning when I went for my run. I switched to the stationary bike after a while, but that's where I do my reading. Right now, I'm working my way through Laurence Cossé's "Le Mobilier national" a very funny (fictional) look at the issue of the French national heritage as represented by cathedrals, and the attempt of Jean-Léger Tuffeau (the man in charge at the Ministry of Culture) to eliminate a vast number of them.....Tuffeau has a secretary who at one point cleans a cathedral rose window...
The Rose Window Theory of Expanding Modular Units
.....and that got me thinking about rose windows. Mostly about how rose windows start at the center with smaller elements, and have slightly larger elements towards the periphery, like this one from the Sainte Chapelle in Paris: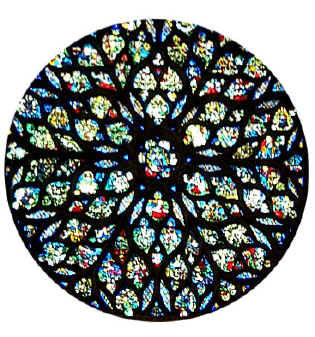 And this is the principle that Ted played with in building his modular ch'ullu, too. But rose windows work with smaller elements, and tend to be more colourful....just like a traditional Andean ch'ullu.
What's Next?
Well, I've been trying to turn my rose window image into a ch'ullu, but without the benefit of a three-dimensional graphics tool, it ain't easy. Try to imagine, though, that the centre of the rose window is the crown of the hat, and the periphery is the brim.
That's where I'm going next -- along with compiling a list of resources.....and making a negative image of the rose window.
And maybe searching out that 3-D graphics thingey......

Modknit | What's New | Resources/Links | Lessons | Patterns | Process to Product

Text and Images Copyright 2000-2002 Katherine Matthews (except where otherwise noted)
This page last modified 11 December 2002