You will always be in our hearts...
Please Click below to read my Tribute to Greg Moore.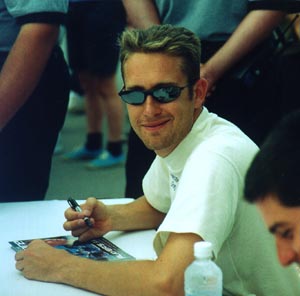 This is a poem my mom wrote for me, I hope you like it.
I look up to heaven beyond the skies
Through my tear filled eyes
The pain in my heart runs deep
God has taken you away Greg Moore
Wonderful recollections I will keep.
Autographs and T shirts hang upon my wall
Photographs and posters no matter how small
Unforgotten you will be-everlasting in time
These are my keepsake treasures Greg
Your memories are all mine.
I never missed a race you run
Taped them all-cherished the ones you won
Wrote stories, drew pictures all about my friend
I will continue to do so Greg
Even though your racing has come to an end.
In art I made a Player's kite you see
A race car driver I also want to be
So please look down from the heavens up high
Here's my gift to you Greg
My kite soaring through the sky.
I will never forget-no duration of time
Ever protect you in this heart of mine
You'll always be there to listen-but I need to say
You're one of God's Angels now Greg
A Tremendous loss-we all have to pay.
Written by: Diane Sitt
I wanted to include this to my website because I thought that what my mom did for me was a really nice tribute to Greg. I hope you all enjoyed it.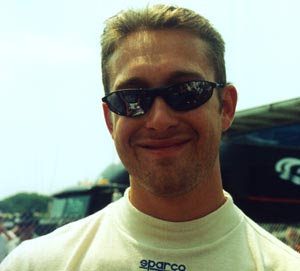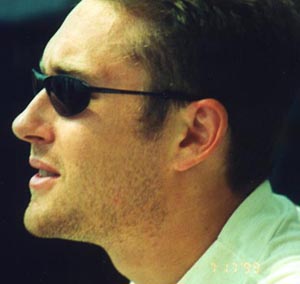 If you would like to send anything to the Moore Family,CLICK HERE
Donations to the Greg Moore Fund,CLICK HERE
You are visitor number

Since November 5th, 1999







Questions, Comments? Write to:
If you want to sign my guestbook and sign a message in memory of Greg, I will be sending them to the Moore Family. Thanks a lot.
Check out these other Racing sites!

This site was last updated on Friday, January 19, 2001