Greg Moore's Biography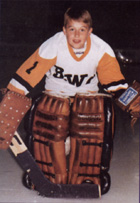 DATE OF BIRTH: April 22, 1975
HEIGHT: 5'11"
WEIGHT: 160 lbs.
MARITAL STATUS: Single
HOMETOWN: Maple Ridge, British Columbia, Canada
YEAR OF ENTRY IN PLAYER'S DDP: 1995
HOBBIES: Working out and mountain biking
PERSONAL VEHICLE: Mercedes-Benz SLK, Hummer, Dodge Viper
FIRST RACE CAR: Van Diemen F1600
DREAM CAR: Mercedes-Benz GT SLK, Lambourgini Diablo
FAVOURITE MUSIC: The Tragically Hip
RACING IDOL: Ayrton Senna
BIGGEST INFLUENCE IN YOUR RACING CAREER: My father Ric
FAVOURITE CITY: Vancouver
FAVOURITE TRACK: Portland and Fontana
GREATEST RACING ACHIEVEMENTS SO FAR: Becoming youngest CART winner in history with victory at Milwaukee
BEST PART OF THE JOB: Winning races
WORST PART OF THE JOB: Constant air travel
IF I WASN'T A DRIVER, I'D BE...: NHL hockey goalie
WHAT WOULD YOU DO IF YOU HAD MORE FREE TIME: Work out more and spend time with friends and family
SUPERSTITIONS: None
BIGGEST ASSET: Patience (on the race track)
BIGGEST FLAW: Impatience (ouside the race track)
GOALS FOR THE 1998 SEASON: Winning the CART Championship
Career Highlights
1989
Won the North American Enduro Kart Racing Championship. Began karting in 1986.
1990
Year-long student trials winner at the Spenard David Racing School in Shannonville (ONT). Winner of the North American Enduro Kart Racing Championship.
1991
Named Rookie of the year after finishing fourth overall with one win, four second places and two poles in the Esso Protec Canadian Formula 1600 Series
1992
Won the USAC Formula 2000 West title in his rookie year with four wins and four poles. Didn't lead the championship until he wrapped up the title with a win in the season's finale at Willow Springs (CA)
1993 PPG FIRESTONE INDY LIGHTS CHAMPIONSHIP
Finished ninth in the points standings in his rookie season
Had eight top-10 finishes, including an impressive third place at Portland
1994 PPG FIRESTONE INDY LIGHTS CHAMPIONSHIP
Finished third overall in the championship
Recorded three wins (Phoenix, New Hampshire and Nezareth)
Started from the pole in two events
1995 PPG FIRESTONE INDY LIGHTS CHAMPIONSHIP
Won the driver's title with 242 points, 102 more than runner-up Robbie Buhl
Broke Paul Tracy's record with five consecutive wins at the start of the season
Scored a total of 10 wins, breaking another record held by Paul Tracy
Recorded seven pole positions and lead 375 out of 583 lasp (64.32%)
1996 PPG CART WORLD SERIES
Runner-up for Rookie of the Year behind Alex Zanardi
Second-place finish at Nazareth
Two third-place finishes (Australia and Cleveland)
Finished ninth in the overall standings with 84 points
1997 PPG CART WORLD SERIES
Youngest winner in CART history at 22 years, 1 month, 10 days
Won consecutive races at Milwaukee and Detroit
Three runner-up finishes (Australia and Mid-Ohio)
Finished seventh in overall standings with 111 points