Articles on Greg Moore
THE TORONTO STAR Thursday, July 16, 1998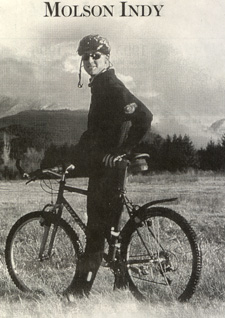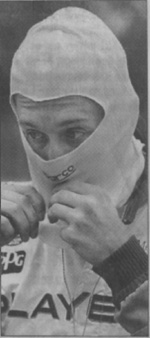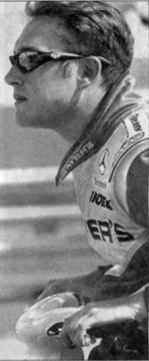 So much Moore

BY RICK MATSUMOTO

Sports Reporter
MAPLE RIDGE, B.C. - Greg Moore steers his monstrous, black Hummer through a tunnel of giant, moss-covered trees with the same steady hands he uses to pilot his sleek racing car around hairpin curves.

Suddenly, a gap appears in the emerald curtain and through the opening appears a small, dark body of water known as Mike Lake in British Columbia's beautiful Golden Ears Provincial Park.

This is Moore's sanctuary away from the roar of 800-horsepower engines. It's here that he escapes the pressures of high-tech racing; the commotion of auto racing tracks in Toronto, California and Australia seems far away. At this moment Greg Moore enters another world.

Moore swings the bulky vehicle to the side of the road and he and a visitor climb out and trod down to the edge of the lake through a veil of fine rain. Out on the lake a canoeist silently slides ghost-like through the mist.

"Look," he says. "Did you see that fish rise to the surface?"

This is where Moore comes to seek solitude from his hectic schedule of races, test sessions and pubic appearances for his Player's/Forsythe racing Team.

"It's very therapeutic to come up here and fish or hike or go mountain bike riding," he offers. "And it's just 10 minutes away from the house. Nowhere else on the circuit can you find a place like this."

It's so isolated; there are no detractions here. I completely forget about race cars. The only thing I have to worry about is tring to guess what the fish are thinking so I can catch them."

Moore, who prefers fly-fishing, pulls on a pair of chestwaders and climbs into an innertube-like appartus which fits around his chest. This allows him to float around the lake casting his fly-baited line at will.

"Sometimes another guy might float by and ask 'what fly are you using?'" says Moore. "He never asks 'what happened in last week's race?'"

Moore admits the tranquillity is so completely relaxing that he has at times nodded off as he floated across the lake.

"I fell asleep once and woke up in those reed beds," says Moore, who has also been known to nod off in the pits before a race.

Moore climbs back into the Hummer for the return trip to town. A short way down the road, he pulls over and takes a map of the park and points out the mountain bike trail he regularly negotiates.

The trail is a 1 1/2-hour roller coaster ride up and down mountain roads. It provides Moore with a means of keeping in shape, both physically and mentally, for the gruelling hours he must endure in a race car.

"Nature intrigues me," he says as he turns the truck out of the park entrance. "It's so unlike what I do for a living."

________________________________________________

The Hummer is 23-year-old Moore's "pride and joy."

Primarily a military vehicle, the Hummer has attracted enough attention in recent years that its U.S. manufacturer now offers the public a street model for around $100,000.

Moore, an avid student of military strategy and technology, was first drawn to the bulky vehicle during the Gulf War.

"I was really interested in the Gulf War because the technology was so neat," he explains. "The U.S. fought the war from a control centre. It's just amazing that the technology to do that is there. Just push a button; use a joy stick.

"They sent 5,800 of these vechiles (Hummers) to the war and not one failed to make it back. That's pretty impressive considering the conditions in which they were used."

Moore sold his sleek Viper to buy the Hummer - but he kept his Mercedes SLK.

________________________________________________

Greg Moore is one of the more accomplished Canadian racing drivers. He currently sits second place in the CART driver's standings behind leader Alex Zanardi and has been rumoured to be in demand on the Formula One circuit.

Not bad for a guy who failed his first driver's test.

"You're nervous and you're white knuckled," Moore, 23, recalls about his first attemt at tring to secure his license only seven short years ago.

Moore travels the same road he took his test on and remembers: "We get up to that stop sign and she (the instrustor) says, 'Now, turn left.' I turned left."

When they returned to the same stop sign a few minutes later, the instructor pointed to a second sign that says right turn only, Moore recalls.

"Then she said, 'Drive back to the centre, you've failed.' It was a crushing defeat," remembers Moore, who passed the test two weeks later.

"Maybe I should take her out for a ride one day," he says laughing. "Take her out to (the race track) at Mission Ridge."

________________________________________________

Moore's fascination with cars, especially race cars, goes back to his childhood.

His father, Ric who owns a Chrysler dealership in Maple Ridge, built and raced Can-Am cars in 1969. One was still sitting in the garage when Greg was 5 or 6 years old.

"The Can-Am car was a double seater so me and a couple friends could all fit in it. We'd twist the stering wheel and pretend we were changing gears," Moore recalls.

The elder Moore got back into racing in the early 80's with his friend Peter Baljet, competing in the Trans-Am Series. Greg would tag along to some of the races.

We competed in the last Six-Hours of Riverside (Calif.) race," the elder Moore says. "When we got back to Greg said 'Dad, I'd like a go-kart.' Stupidly I said okay. Three weeks later the car showed up."

At 15, Moore made the decision to become a race driver.

"Greg had won two North American championships in go-karting, but I wondered if it was because he was a good go-karter or that he had the best equipment," says Ric Moore. "I wanted to find out, so I sent him to Richard Spenard's school at Shannonville, Ont.

Moore won the school's championship. He was on the road to stardom.

________________________________________________

Moore was born in Coquitlam, a town situated halfway between Maple Ridge and Vancouver.

An only child, he lived with his mother Donna, after his parents seperated when he was 5-years-old, "although I used to go back and forth," he explains.

When, at 15, he made the decision to become a race driver, he moved in with his father, who became his manager and confidant.

His mother, who has not remarried, travels to watch her son race, but only for events on the West Coast. Unlike many mothers who would cringe at the idea of their sons driving at speeds in excess of 200 m.p.h, Donna Moore says she's become accustomed to that.

"He has been doing it for so long I'm used to it," she says. She jokingly takes a little credit for Moore's driving abilities.

"They say kids get their talents from their mothers. I must be a good driver. But when I'm driving down the Cochihalla (highway in B.C.) going 110 km/h, I find myself thinking 'Greg goes more than twice this fast.'"

________________________________________________

While he spends much of the year on the road, Greg still maintains a room in his fathers sprawling Maple Ridge home.

A poster of his hero, the late Aryton Senna, who died in a crash in Imola in 1994, is still tacked to the wall of his room. A few small trophies collect dust on shelves beside the bed and a driving suit hangs from the top of an open closet door.

A suitcase, still unpacked from a hurried trip back to Maple Ridge after the Portland race, lies strewn on the floor.

"I live mostly out of a suitcase these days," he says. "But home is where my heart is."

There is an obvious fondness for the north shore of the Fraser River. Here he can be himslef; hang out with best friend, Allan Robbie, and a few other close buddies; eat junk food and answer the only occasional question about racing.

"I like coming home because my friends are here," he said.

"I'm on the road so much that it is nice to be where your family and friends are; to go back to your roots."

________________________________________________

Allan Robbie has known Moore since they were both in Grade 12 at Pitt Meadows High School.

He even spent one summer working as a member of Moore's pit crew, replacing a worker who had been fired.

Today, Moore calls Robbie his "best friend" and they spend a lot of time together "hanging out" whenever Moore returns to Maple Ridge. Robbie describes Moore as just a regular guy who hasn't allowed his sucess in racing to goto his head.

"I've got a deal with him," he explains Robbie. "If I think he's getting too big headed I'm allowed to punch him. So far I haven't had to.

"Really, though, he hasn't changed. When he's home I'll say, 'Wanna go down to the pool hall?' And he'll say 'sure' without hesitation. He's not oo good to be in Maple Ridge."

Robbie says Moore exibitts boundless patience with people who want to discuss racing with him.

"I get more irritated than he does when people come up to him and want to talk about racing," he says. "He'll talk to them. He's not snobby at all."

Moore's focus on his career is such that some people have complained of what they perceive as a growing aloofness. Moore admits he may give that impression, but adds that he's not an outgoing person by nature.

"I tend to be shy," he explains. "And at the track it's business. There's no way to act when you're racing, and there's no way to act when you're not racing. That's how I look at it. I'm extremely focused on one thing and that's tring to win."

________________________________________________

It was Greg Moore's desire that first attracted team owner Gerald Forsythe to the bespectacled 19-year old.

When the Indianapolis-based owner of Indeck Energy Services was looking for a replacement for a retired Teo Fabi, he turned to Moore.

"His racing background and the sucess he had in Indy Lights on a limited budget were basically the reasons he was selected," recalls Forsythe. "We look for personality and obvious desire to be sucessful in a young driver. We found both in Greg.

Forsythe said he's aware or the rumors that F1 teams are intrested in Moore. However, he says he feels it would be a mistake for Moore to make the jump at this time.

Moore, for his part, insists he's focused on just one thing at the present time - winning the CART drivers' championship.

He may also be wondering how the fish are biting back home.