WESTERN UKRAINE/EASTERN GALICIA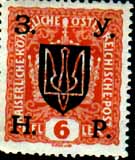 One stamp from a set of 19 different values on Austrian stamps. Other types of overprints were also issued on other stamps of the former Austro-Hungarian Empire. This issue was made in May 1919 from Stanislawow and was among the last made by the Western Ukrainian People's Republic.
By July 1919, the area was controlled by Poland.

---

For Western Ukrainian stamps and covers visit Ron Zelonka's Stamp & History page Click Here

---
Click here to return to the Disputed Territories page