Leigh had a fantastic race in Beijing--
Top North American!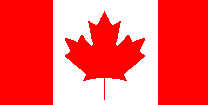 Canadian Olympic Road Team Member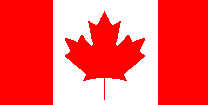 Current member of Cheerwine Professional Cycling Team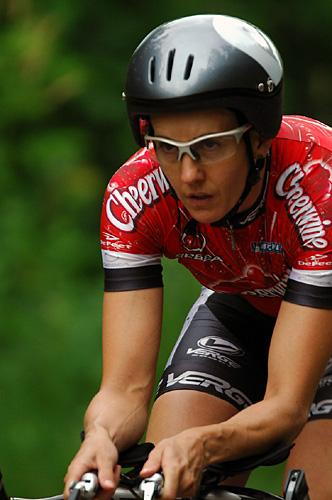 Leigh's blog
Sign Leigh's Guestbook
More pictures | Bio| Results | Schedule
Direct report from Leigh | Leigh-mail
Latest News
Canada am Interview on Beijing smog



June 5 2008 Silver medal at National Championships




June 19 2008 Selected to Olympic road team
June 15
2008 Bronze medal Montreal World Cup
---

No updates for some time, but lots of wins and placings since 2004
---
August 29 2004
Ontario Provincial Road Championship
1st (again)

---

August 15 2004
Elliot Lake Ontario Cup: 2nd

---

July 26 - August 1 2004
Altoona International Stage Race
5 top ten finishes,
5th in the QOM competition,
12th GC overall

---

July 17 2004
Ottawa Grand Prix (Gatineau Park)
1st

---

June 27 2004
National Championship Road Race, Kamloops, BC
8th place

---

May 1 2004
Jiminy Peak, Massachusetts
3rd place!

---

May 2 2004
Florida, Massachusetts
2nd place!
See Cervelo website for details

---

August 10 2003 Bamberg, Ontario
Provincial Road Race Championship
1st

---

August 3 2003
Leigh was 20th overall in the Tour de Toona 7 day stage race.

---
July 20 2003
Festival de Velo Waterloo 2nd place

---
July 13 2003
June 30 -- 16th place in the National Championships in Hamilton.
July 12 -- 2nd place in the 6th Annual Ottawa Bicycle Club Grand Prix!
July 13 -- 5th BRO Capital City Criterium

---

June 22 2003
Leigh took third place in the Kitchener-Waterloo Classic with a strong finishing sprint. Hard training is paying off and shows Leigh is clearly returning to form. She is now riding for the newly formed Cervelo team along with Julia Farell, Nanci Dodman, and Claudine Labelle.

---

June 16 2003
Leigh has returned to racing. She has been training hard and competing in local races. She doesn't intend to take it up full time at this point.

---

January 15 2001
After five years on the road, Leigh has decided to take some time off and enjoy a well-deserved rest from the intensity of the racing scene. She is currently teaching full-time with plans to compete in more cyclo cross events next fall.

---

November 27 2000
To hell and Back (courtesy Mike Barry)
Early on Sunday morning, in miserably wet, but not too cold (5 degrees C) conditions, fifty one riders started the second annual edition of the "To Hell and Back". The event was started last year in response to the many requests for a fall edition of the long established "Paris-Roubaix Challenge". The P-R has been run for fifteen years over the worst roads and tracks that we can find between Toronto Zoo and Sutton on Lake Simcoe. The route has changed over the years as municipal authorities pave more roads but one feature remains, an abominable 10 km stretch of old rail bed which has become known as our "Hell of the North". The event has attracted a wide variety of participants, from Canada's National Champions to many of Toronto's downtown couriers.
Leighann 19th in a time of 6 hours, 52 minutes 10 seconds.

---

November 25 2000
I've been lax about updating this page and should report that after a very succesful season, ending with a win in the Univest Grand Prix in Philadelphia, Leigh has returned to teaching for the winter. She has been staying active and keeping in shape by competing in local cyclo-cross and has won most of her races. By February she will be back to serious training for the new season, but this year with a different team as Schwab has unfortunately withdrawn from cycling sponsorship. Leigh is currently negotiating with a couple of other prospective teams and will soon announce her plans for 2000.

---

September 2000
Killington stage race
With a third place in the Rutland Criterium and a fourth in the Saab Road race, Leigh finished fifth overall

---

July 16 2000
Leigh takes the bronze medal in the National Championships. Sandy Espeseth was the winner followed by Melanie Nadeau of Quebec. They were all part of an eight strong group that lead from the third stage at one point holding a four minute lead.

---

June 12 2000
After two World Cup races (Montreal and Philadelphia) Leigh travelled to Idaho to compete in the Hewlett Packard Laser Jet Women's Challenge. In the first stage she had a minor spill on wet roads and had to fight to regain the peloton, but still finished 23rd (tied for 11th on time). In stage three she finished 7th outsprinting most of the peleton in an uphill finish. Unfortunately, in stage four Leigh was involved in a major crash. She wasn't hurt, but her bike suffered and she again had to chase hard to regain valuable time. But with two thirds of this 1000K there will be lots of opportunities to improve her position as she is only four minutes out of a top ten placing.

---

May 8 2000
Tour De L'aude
Direct race reports from Leigh

---

April 24 2000
Leigh picked up a second in the Turkey Point race last week, and a first in the annual Good Friday race -- both in Ontario. She travels to France this week to compete in the Tour de L'Aude.
---
March 12 2000
Leigh finishes third overall at Redlands after a seventh place finish in the final stage. A terrific start to the season.

---

March 11 2000
With a third place in the in the third stage, Leigh has moved into fourth GC, but tied for third on time.

---

March 10 2000
Off to a good start with a fourth place finish in the second stage at Redlands (rainy and cold conditions).

---

January 21 2000
It is now confirmed that Leigh will be again riding for the much enhanced Charles Schwab team in 2000.
See the press release.

---

December 1 1999
Leigh's collar bone has been succesfully repaired. She has been riding for some time and will be travelling to a training camp in New Mexico on February 14 2000.

---

October 14 1999
Thirty-seventh in The World's 6:47 down. Fourth Canadian and fifth North American finisher.
Leigh was in London, Ontario, today to have her collar bone fixed up. She originally broke it a couple of years back and it healed crooked. This made it susceptible to breaking easily, which she has since done hree times -- not badly -- just enough to put holes in her racing season.
If you wish to wish Leigh well,
feel free to sign her guest book below.

---

October 1 1999
Leigh is in Italy this weekend competing in two day stage race. In the Swiss world cup last week she finished 34th at 1:18 down. In the tour of Switzerland she had a thirteenth place finish in the fourth stage -- GC not available. Next week is the world Championships, after which Leigh will be returning home and is scheduled to have her collar bone rebuilt.

---

September 7 1999
Leigh's form is obviously returning with a fourth place finish in the gruelling seventy-four mile first stage in Killington, followed by a third place finish in the final stage. She finished fifth GC. One year ago she won one stage, finished third overall, and managed to break her collar bone.

---

August 29 1999
Except for a couple of short crits, which she won,
Leigh has been away from major races for about six weeks,
but was back in the fray this weekend with a tenth place
in the GP Feminine du Quebec stage race

---

August 7 1999
Rib is healing fast and Leigh expects to be back racing next week.

---

July 28 1999
Leigh started the Tour De Toona in Pennsylvania, but unfortunately she crashed in the second stage and cracked a rib and is out of the race.

---

July 13 1999
Leigh's last races were in Ottawa and at the CHIN picnic where she picked up first place in both. She is currently taking a break
and will be racing again very soon.
Click here for a new
picture.

---

June 27 1999
Nationals in Sherbrooke Quebec
A fifth place finish for in a hot sprint for second.
All recorded same time.

---

June 20 1999
The Hewlet-Packard Women's LaserJet Challenge
The race, running from June 9 - 20 was a 13-stage, 12-day
event, covering 693 miles and 13,870 vertical feet,
making it the longest race on the
UCI North American schedule.
128 riders.
Leigh finished 27th 16 minutes down.
Full race coverage to be broadcast on
NBC July 11th at 2pm EST.

---

June 5 1999
Leigh will be competing this Sunday in the
First Union Liberty Classic
in Trenton New Jersey (World Cup), followed by
The Hewlet-Packard Women's LaserJet Challenge
in southern Idaho, which runs June 9 to June 20
. . . 13 stages over 12 days - 693 miles
and 13,870 vertical feet of climbing!
Leigh has recently joined the Schwab/Flexiblock team and
reports that she feels strong and confident.

---

May 30 1999
Sixteenth spot in the Montreal World Cup -- a tough race in thirty degree temperatures against the world's best.

---

May 18 1999
With a seventh place stage and an eighteenth place GC in Le Tour De L'Aude, Leigh is feeling very pleased with her progress after having been limited by her injury this spring.

---

May 12 1999
A profile on leigh made the national media in the Globe and Mail on May 12. A web version is available here.

---

April 14 1999
Leigh has recovered from her injury and will be leaving for Spain to race in the Veulta di Majorca -- April 29th to May 2nd, and then Le Tour de L'Aude -- May 6th to 16th.
She is now being coached by Eric Van den Eynde.

---

March 9 1999
Bad news/good news. After crossing the finishing line in fourteenth position in the first stage of the Street Skills Tour, in Tokoroa NZ, Leigh crashed and re-injured her collarbone. The good news is that the damage is not severe and is not expected to keep her out of competition very long -- and fortunately this is very early season.
(rubber collar bones are on order).

---

March 4 1999
Eighth GC in her first race of the season with five top ten stage finishes. Off to a great start.

---

February 28 1999
Leigh is in Australia now competing in the Tour De Snowy.

---

February 12 1999
This winter Leigh has been training indoors and out on the road, despite -20c temperatures. She is now at a training camp in New Mexico with the Canadian National Team, and will be headed to Australia and New Zealand on February 24 for two World Cup events

---

October 17 1998
In her final race of the season, Leigh finished 38th in the world Championship -- only two minutes down on the winner.
On the 15th of October, at a gala event, she received the Kitchener Waterloo Woman of the Year award (sport).

---

September 8 1998
Leigh is back on track with a third place in the Killington, Vermont five day stage race, and also picked up the
"Queen of the Mountains" category.

---

August 26 1998
This years "Tour Féminin" (Le Tour Grande Boucle) was a tough race for Leighann as she was unable to prepare sufficiently owing to her shoulder injury. In spite of this she completed the 14 stage, 1392km race finishing in 68th position.

---

August 11 1998
After a month out of competition, Leigh returned to racing in world Cup IV on August 9th with a 68th place, finishing in the peleton. She starts the "Tour Féminin" tomorrow and should regain her fitness level as the race progresses.

---

July 23 1998
Leigh's collar bone has been healing well and she is riding again. She will be competing next in France in the
world cup.

---

July 11 1998
Final result of Fitchburg Longsjo Classic. Leigh 3rd GC after 3rd stage, but unfortunately she crashed on the last stretch of the last stage and broke her collar bone. She will be out of the nationals, but intends to be racing again by August.
---

Leigh's Bio


Born August 10 1970 in Kitchener, Ontario, Canada
Height 5' 5" Weight 120 lbs
Resides in Waterloo, Ontario, Canada
Home club: Waterloo Flying Dogs
Coach: Frank Fogolin
Employment: Currently teaching highschool at Galt Collegiate Institute, Galt, Ontario

Education
1997 OTC Faculty of Education, University of Toronto
1995 BA. Honours Recreation, University of Waterloo
High school, Waterloo Collegiate institute
Goals
To represent Canada at International calibre races for the next 4 years, culminating in the 2008 Olympics in Bejing

Bio | Results | Schedule

---


Race Results
1999 (more to come)
National Championships
Top 5
1. Clara Hughes (Saturn) 3:13:29
2. Lynne Bessette (Saturn) at 10:42
3. Sandy Espeseth s.t.
4. Annie Gariepy (Elita) s.t.
5. Leigh Hobson s.t.
International
1998
Currently 29th in World Cup points
2nd Canadian in World Cup points
3rd GC Fitchburg Longsjo Classic, 3rd Stage winner
13th GC World Cup Montreal
5th GC Redlands, California, USA
15th GC Tour de L'Aude, France
1997
29th World Championships, Spain
8th GC Grand Prix Féminin International du Canada
1996
22nd World Championships, Switzerland
7th GC Tour of Zurich, Switzerland
11th GC Tour du Finisterre, France
National
1997
2nd National Criterium Championship, Quebec
1996
Bronze National Road Race Championship, Quebec
5th National Individual Time Trial Championship 40km)
1995
5th National Road Race Championship, Ontario
5th National Individual Time Trial Championship (40km)
Provincial
1997
2nd Ontario Provncial Criterium Championship
1996
1st Ontario Cup Series Overall
1st Provincial Road Race Champion
1st Provincial Hill Climb Champion
1st Ontario Summer Games Road Race

Bio |Results| Schedule
---

1999 Schedule
February 28 - March 4, Australia Tour de Snowy
March 7, Canberra, Australia World Cup
March 9 -13, Tokoroa, New Zealand. The Street-Skills Tour
March 14, Hamilton, New Zealand 102km World Cup
July 27 - August 1, Tour de Toona, Altoona, Pennsylvania
August 7/8 Wendy's Class Crit, Ohio
August 24 - 29 GP Feminine Quebec
September 4 - 6 Killington, Vermont
October 9 World Championships (team TBA)
---

1998 Schedule
July 2 - 5 Fitchburg, Mass., USA
July 15 - 19 National Championships, Abbotsford, BC,
Aug 9 World Cup # IV, France
Aug 12 - 23 Tour De France (Tour Cycliste Féminin)
Sept 13 Tour Beneden-Maas - Netherlands World Cup
Sept 15 - 20 Holland Ladies Tour - Netherlands
Sept 23-26 Tour de Suisse Feminin
Sept 27 World Cup William Tell - Switzerland
Oct 10 World Championships - Netherlands

Bio| Results | Schedule |

---
Lost gardeners/parent page
---