PATRICIA BOW: The Spiral Maze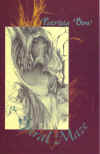 Click here to return to our Home Page
"'Neil woke, rising from darkness to darkness.' Patricia Bow snares us with the first line of her first supernatural thriller in English... and doesn't shake us loose for another 190 pages." (Quill & Quire, review by Teresa Toten)
The Spiral Maze is a story of two worlds as close to each other as the skin to an apple, and as far from each other as the smallest star you can see at night. One of those worlds is ours. The other grew from the dark and twisted mind of a man who should have been dead a century ago -- but isn't.
The way between the worlds is the Spiral Maze, a swirl of yew hedges on a hill top. A quiet, dusty, claustrophobic place by day; by dusk, a place of changes, where the searchers become the hunted. Into the maze go Neil and his friend Fleur, following the shade of Neil's long-dead twin, Jasper. Their mission is to rescue Charlotte, a girl who has been imprisoned by Neil's great-great-uncle Dexter at the heart of the maze for more than a century. But even if they can find their way through, there is the problem of getting back.
"The author doles out terror generously but refrains from gratuitous horror. Dexter is a graceful villain. The author's sure and evocative prose doesn't waver. She displays a refreshingly firm grip on all her characters, who are all thoughtfully drawn and entirely believable, even when they're only on the page for a couple of lines." (Quill & Quire)
Patricia Bow was born in 1946 and educated at the Universities of Carleton and Toronto. She lives in Kitchener, Ontario, and makes her living as a writer of fiction and non-fiction. The middle child in a family of seven, she found her childhood solitude in the woods that border the Ottawa River, in her imagination, and in books. The reader closest to her heart remains, to this day, "the twelve-year old who, I suspect, is the real me."
Since Heart of Ice, her first fantasy novel, was published in Germany in 1990 under the title Wendigo-Eisiger Tod, Patricia Bow has brought out seven more books* for young teenagers - all thrillers with a supernatural dimension. The Spiral Maze is a thriller for anyone over ten years old.
ISBN: 1-89544-68-5 5.5"X8.5" paper Price:$11.00
thistledown press ltd.
Click here

to order an autographed copy of The Spiral Maze; please send $11.00 - includes GST and shipping - in Canadian funds to 99 Krug Street, Kitchener, ON, N2H 2X8. U.S. orders add $1.50 CAN. Book will be mailed out on receipt of payment.