JAN III SOBIESKI (1624-1696)

---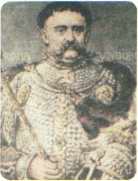 *Elected King of Poland 1674-1696
*Born at Olekso, Malopolska

*Enemies of Poland at this time: Sweden, Brandenburg (Prussia), Russia, Tatars,
Turks and Cossaks.
*Early in his military career he fought against Cossaks (Ruthenian-Poles), Turks, and
Tatars (Originally Mongol hoardesmen, then living south-east of Poland).
*Aided Sweden against Prussia in 1654-55 while being pressured by Russia, only later to expel the Swedes from the captured Prussian territories.
*Became Polish Hetman 1668.
*In 1672. the Turks invaded the Polish Commonwealth and imposed the treaty of Buczacz on the
Poles by which Turkey occupied Podolia and the southern part of the Kiev region.
*In 1673, Sobieski defeated the Turks at Chocim, ensuring Sobieski's election to the throne.
*1673 battle at Hotin, Bessarabia, defeating the Turks.
*Elected King of Poland 1673 (Wettin dynasty).
*Empire included at this time Poland, Lithuania (Other Baltic territories) , Slovakia, parts of the Ukraine and Bialyrussia.

---
BATTLE FOR VIENNA AND THE SAVING OF CHRISTIAN EUROPE 1683
*Turks (Ottomans) allied with Tatars and Swedes.
*2 historical routes into Europe from the south:
The Danube valley into Vienna, or the Moldavian plain into southern Poland.
*An agreement was made between Austria and Poland for mutual defense of Vienna/Krakow if either were attacked from the south by the Turks or their allies.
*At he request of the Pope, Sobieski joined his Polish-Lithuanian army of 20,000-30,000 men in an allied force under Charles V Lorraine (Austrians, Germans and Lorrainians of 50,000 men).
These 70,000-80.000 were pitted against 275,000-300,000 Turks and Tatars and Swedes.
*July 14, 1683 Turks arrive at Vienna.
*September 1, 1683 Turks breach defenses at Vienna by exploding a mine under a defense wall.
*Jan Sobieski had a victory at Kahlenberg on September 1, 1683 seriously weakening the Turks,
enabling the saving of Vienna. It was then that an intensive counter-offensive began, leading to the liberation of Hungary and other parts of the future Austrian empire.
*12 September, 1683 Sobieski arrives at Vienna and fights.
*Turks and it's allies routed. The Ottoman Empire never recovered, ever. They continued to hold the Balkans until WW I, with the Hapsburgs gaining much of east-central Europe. Thanks to Sobieski, Christianity in Europe was preserved, and the Turks were prevented from installing Islam, which would have arguably set back European civilization by centuries.

---

Links to references:
Battle for Vienna
http://www.iyp.org/polish/history/vienna.html
http://www.cais.com/pccdc/artgallery/painting03.htm
http://www.fordham.edu/halsall/mod/1683sobieski.html
Polish History
http://www.kasprzyk.demon.co.uk/www/HistoryPolska.html
http://www.net.hu/corvinus/bogdan/
http://www.ampolinstitute.org/kings.html
In Polish
http://encyklopedia.wp.pl/

Other references
Funk & Wagnalls Encyclopedia, Standard Reference Works Publishing Co. Inc. New York
Atlas of World History, Penguin Books, London 1974

---