POLISH PRODUCED STAMPS 1919-1920

---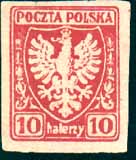 10 Halerzy, 1 Korona issued from Krakow for Southern Poland (Galicia), 1919. They were un-gummed and without perforations. 2, 3, 5, 6, 10, 15, 20, 25, 50, and 70 Halerzy and 1 Korona values were issued in this series. Some were privately perforated.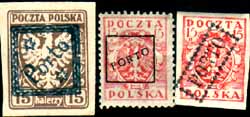 They were also overprinted locally for use as postage dues (left). The ones on the right were also issued in Galicia in the early months of the 2nd Republic.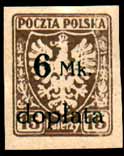 5 of these values were overprinted for use as Postage Dues for all of Poland (note that the postage dues are in marek denomination).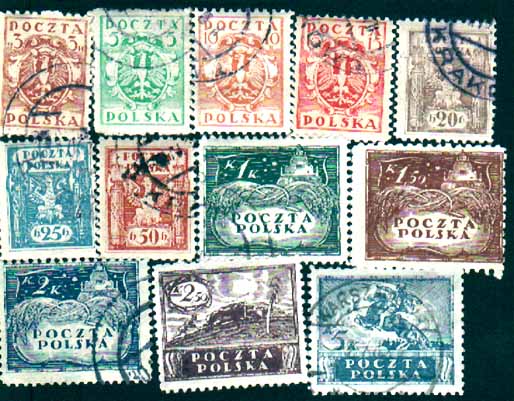 Issues for Southern Poland 1919, in the Halerzy/Korona denominations. These were also issued for Northern Poland in the Fenigow/Marek denominations- see below.


Similar to above, but in Fenigow/Marek for Northern Poland. Note the different colours.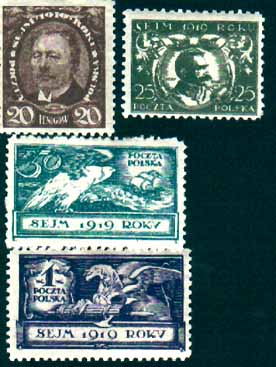 1919 Sejm (Government) issue. Issued in Fenigow/Marek denominations for all of Poland. Other stamps in this series.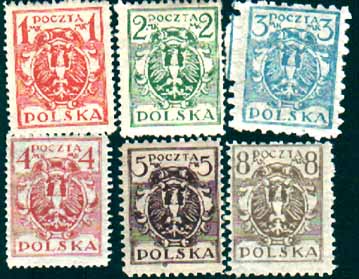 Issues for all of Poland in Marek -1920, similar to those above.

---
Click here to return to Stamp page