MEDALS AWARDED BY OTHER NATIONS TO POLISH SOLDIERS

---

FRANCE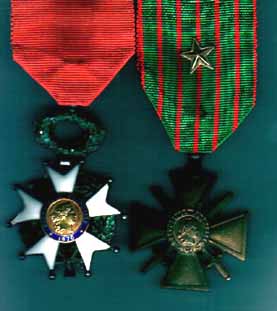 Legion of Honour; Croix de Guerre (WW I). Awarded to some members of Haller's Army who fought in France during World War I. The Legion of Honour and certain other French Civil decorations were also awarded to Poles during the inter-war period of 1918-1939. They were awarded as diplomatic courtesies and for various other non-military reasons.
A few of these awards were also given to Exiled Polish Soldiers who fought in France in 1940. The WW II version of the Croix de Guerre has a different ribbon. For more information on French Medals- CLICK HERE

---

AUSTRIA-HUNGARY Medal of Military Merit (Signum Laudis); Karl Truppenkreutz; Silver and Bronze Medals for Bravery. Medals of the Austro-Hungarian Empire were awarded to Polish soldiers who were under the command of Marshal Jozef Pilsudski during the First World War. The legendary Legionnaires of Marshal Pilsudski fought on the Austrian side until 1917. As a condition of supporting Austria, Pilsudski was lobbying for an independent post-war Poland. Germany was opposed to an independent Poland. When Pilsudski received no guarantees of autonomy after the surrender of Russia, he refused to swear allegiance to Germany, Austria's ally. He was jailed in Germany from 1917 until November 1918, and the Legionnaires disbanded until Pilsudski's release.

---

GREAT BRITAIN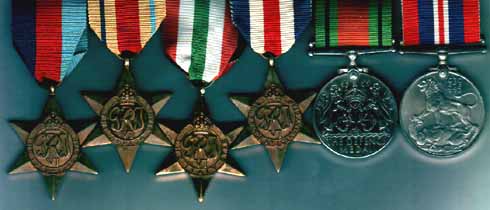 British WW II medals awarded to Polish Soldiers who fought under British command. The 1939-45 Star; the Africa Star; the Italy Star; the France and Germany Star; the Defence Medal; the 1939-45 War Medal. Stars were awarded for participation in various campaigns. Other stars were awarded for Atlantic, Pacific, Burma and Air Crew Europe. For a listing of selected British medals and their ribbons- CLICK HERE.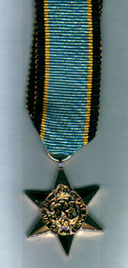 Air Crew Europe Star. Awarded to Pilots and Crew members in the Polish Squadrons of the RAF who took part in operational flights over Europe. Awarded for service until 4 June 1944, after which the France and Germany Star was awarded to Air Crews. This is the rarest of the 8 Stars.

---



---
CLICK HERE TO RETURN TO MAIN PAGE