WORLD WAR TWO - POLISH FORCES IN THE WEST
---

Poland was co-invaded by Germany and the Soviet Union in September 1939. Members of the Polish Government and some military personnel escaped through Romania (in 1939 Poland had a border with Romania) and others through Hungary via Slovakia. Many of these Poles went on to form units in France in 1940. A number of Poles made their way to French controlled Levant as well. These soldiers formed the Carpathian Infantry Brigade and participated in the fight for Tobruk. Many others were captured by German and Russian forces. The Government in Exile was soon established in Paris and remained there until France fell to the Germans in 1940. The Exile Government then moved to London and remained there until 1990.

A Polish Division (2nd DSP), fought in France in 1940 but was forced into Switzerland, where the soldiers remained interned until the end of the War. Other Polish units were also formed in France in 1940 including the Podhale Brigade which participated in the battle for Narvik. After France fell, many evacuated Poles ended up in Scotland and Great Britain. Among them were those that would form the Polish 1st Independent Parachute Brigade (Arnhem, operation Market Garden) and the 1st Polish Armoured Division which fought at Caen and at the Falaise Gap. Also among them were those that served in the R.A.F. Polish Squadrons.

A majority of the Polish Army Officers captured by Russian forces in 1939 (an estimated 14,000 but likely many more) were massacred by the NKVD (later becoming the KGB) at Katyn and other places. Many enlisted men were executed as well. The Poles that were permitted to live were sent into forced labour or camps in such places as Siberia. These Poles were permitted to leave the Soviet Union to join Western Forces after Germany invaded Russia in June 1941. This group of Poles made their way through Iran., Iraq and Syria to join British Forces in Palestine. This Force went on to fight in Italy and became the Polish 2nd Corps under General Anders, which fought under British command as part of the 8th Army. For a true story about a Pole who escaped the USSR to join the Exile Forces, check out Without Vodka by Aleksander Topolski http://www.withoutvodka.com/index.htm

Because these forces served under British command, they were awarded some British medals. Click here for details.

The awards of the 2nd Republic (1918-1939) were continued and a few more awards were added. Some, like the Virtuti Militari and the Cross of Valour were re-established. Other awards such as the Active Service Medals (Army, Navy, Airforce and Merchant Marine) and the Monte Cassino Cross were created to commemorate service during the 2nd World War.
---

Order of Precedence

1. Order of the White Eagle
2. Order of Virtuti Militari I class
3. Order of Virtuti Militari II class
4. Order of Virtuti Militari III class
5. Order of Virtuti Militari IV class
6. Order of Virtuti Militari V class
7. Order of Polonia Restituta I class
8. Order of Polonia Restituta II class
9. Order of Polonia Restituta III class
10. Order of Polonia Restituta IV class
11. Order of Polonia Restituta V class
12. Cross of Valour
13. Gold Cross of Merit with Swords
14. Gold Cross of Merit
15. Silver Cross of Merit with Swords
16. Silver Cross of Merit
17. Bronze Cross of Merit with Swords
18. Bronze Cross of Merit
19. Monte Cassino Cross (Commemorative)

20
A. Army Service Medal
B. Navy Service Medal
C. Air Force Service Medal
D. Merchant Marine Service Medal

RIBBONS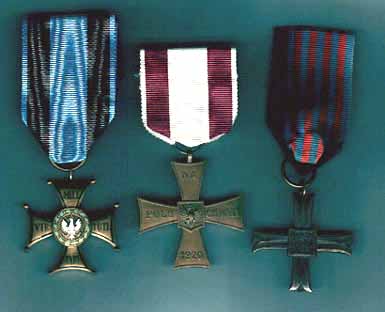 WW II Polish Forces in Exile Awards: Order of Virtuti Militari; Cross of Valour; Monte Cassino Cross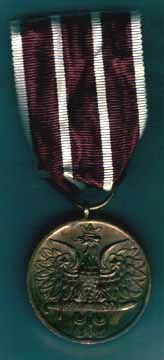 Army Active Service WW II Exile (London version).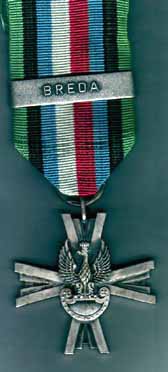 Cross for Polish Forces in the West- bar for BREDA. Bars were issued for various battles, including MONTE CASSINO.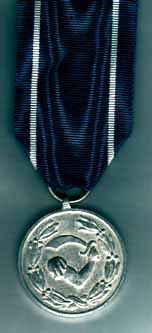 Active Naval Service WW II Exile.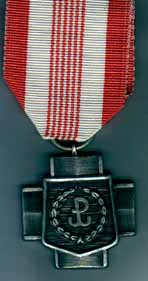 Home Army (Armia Krajowa) Cross. This commemorative Cross was instituted in 1966 by the Polish Government in Exile. This example was made in Poland. Other examples were made in England. The English version has a Moire ribbon of higher quality.



| | |
| --- | --- |
| | |
| Jerusalem Cross Obverse | Reverse |
While not a Polish medal, many Poles stationed in Palestine were awarded the Jerusalem Cross.
This version in bronze was awarded to enlisted ranks while a slightly larger version in silver was generally awarded to Officers. Some examples also have an additional bar on the ribbon "Jerusalem". My thanks to Alan Stubberfield for these pictures.

Later, a Polish Jerusalem Cross was awarded as a commemorative decoration by the Exile government. It has a large Polish Eagle in a shield on the obverse and is on a different ribbon (white with a wide red stripe on each side).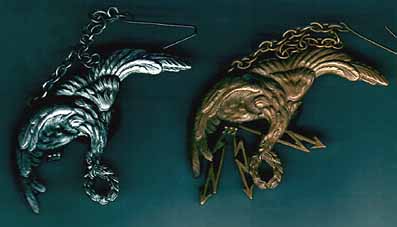 Pilot (left) and Observer Wings. Marked J. R. GAUNT AND SON LONDON on reverse.

---
CLICK HERE TO RETURN TO THE MAIN PAGE