DZIADEK'S PAGE

---

My Grandfather was a volunteer in the 3rd Legion Infantry Regiment (3 Pulku Piechota Legionow, or 3 P.P. Leg. for short.) during the war against the Bolsheviks, 1918-21. He held the rank of Corporal and as a Machine gunner he led a Hotchkiss machine-gun team. His older Brother also was a Legionnaire and later, in WW II, a member of the ARMIA KRAJOWA.
The efforts of patriotic Poles, like my Grandfather and my Great Uncle, greatly contributed to the DEFEAT of the BOLSHEVIKS in 1920. The Polish Victory enabled eastern Europe to remain free for 20 years, thwarting Lenin's plans to carry his revolution across the Continent. Poles were fighting Communism long before it became fashionable in the west.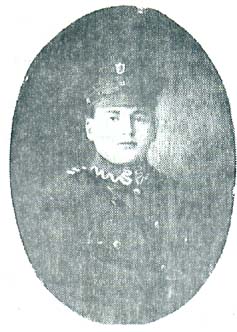 My Grandfather, Warsaw, 1920.

---

He participated in the Defense of Lwow, the Battle of Warsaw and the Liberation of Wilno.
He fought in Galicia, Carpathia, Wolyn, Besarabia, Bukovina and The Ukraine early in the War. He also fought in Byelorussia and Lithuania later in the War. He also worked in the ARMOURY at RADOM as a Gunsmith and Machinist until August 1921.

---

His Official Decorations: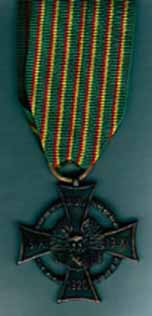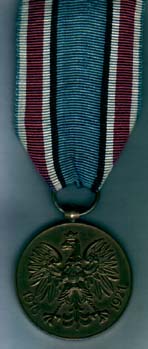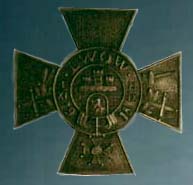 1.) Cross of Merit of the Central Lithuanian Army for participation in the Liberation of Wilno by General Zeligowski in 1920. 2.) 1918-21 War Medal. 3.) Commemorative Decoration for the Defenders of Lwow, November 1918.

It is likely that he was eligible for other official medals, but unfortunately additional records to support my theory have yet to be found. Because he became a Legionnaire so early in the War (fighting in Lwow during November 1918), it tends to suggest that he was already a Legionnaire during World War One. If he had served under Pilsudski during W.W. I, it would also be possible for him to have been eligible for the Cross or Medal of Independence. He would have also been eligible for the Cross for War Volunteers, but it was never awarded. I also have no idea if he earned any Austrian medals for service in Pilsudski's Legion during W.W. I. Many Poles discarded their Austrian medals after Pilsudski was imprisoned by the Germans in 1917.

---

He became a member of SWAP (Stowarzyszenie Weteranow Armii Polskiej - The Polish Army Veterans Association), and was a founding member of the local chapter. The following Decorations were awarded to him by SWAP: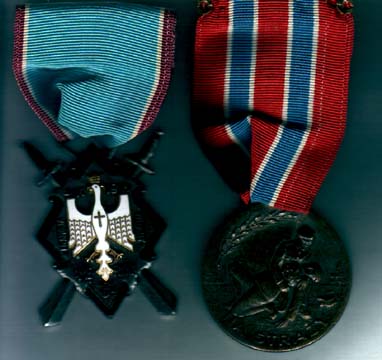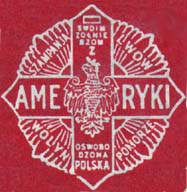 Two Medals awarded awarded to my Grandfather by SWAP. 1.) The Haller Swords, awarded to him by the Administrator of SWAP and 2.) The Commemorative Medal for 25 years of SWAP. The Logo of SWAP.

---

THIS PAGE FOR PRIVATE USE ONLY. Copyright ©1998 medals

golden.net
All rights reserved.
CLICK HERE TO GO TO MAIN PAGE