PORT GDANSK
After the end of the First World War, Danzig (Gdansk in Polish) was established as a free city under the provisions of the Treaty of Versailles. In order to reduce the influence of East Prussia, Poland was essentially given the responsibility of Customs Inspections for the city. Danzig issued it's own stamps, but Official Polish offices issued stamps as well. These stamps were issued until Germany invaded Poland in 1939. After the Second World War, the city, along with much of East Prussia, became part of Poland.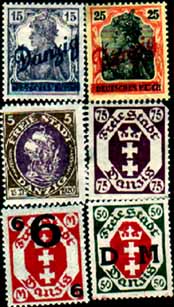 Early stamps of the Frei Stadt of Danzig. The first issues were German with Danzig overprints.
Later, Danzig issued stamps of their own design.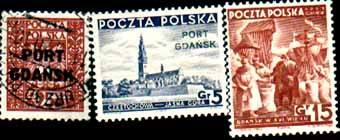 Polish issues of Port Gdansk. Most were existing Polish stamps with "PORT GDANSK" overprints. The one on the right was among the last issue in 1938.

---
Click here to return to the main page