Charles Hubert Hastings Parry (1848-1918)

Sir Charles Hubert Hastings Parry, 1st Baronet was an English composer, probably best known for his setting of William Blake's poem Jerusalem, the coronation anthem I Was Glad, and the hymn tune Repton, which sets the words Dear Lord and Father of Mankind.

Parry joined the staff of the Royal College of Music in 1884 and was appointed its director in 1894, a post he held until his death. In 1900 he succeeded John Stainer as professor of music at Oxford University. His later music includes a series of six "ethical cantatas", experimental works in which he hoped to supersede the traditional oratorio and cantata forms. They were generally unsuccessful with the public, though Elgar admired The Vision of Life (1907), and The Soul's Ransom (1906) has had several modern performances. He resigned his Oxford appointment on doctor's advice in 1908.

Influenced as a composer principally by Bach and Brahms, Parry evolved a powerful diatonic style which itself greatly influenced future English composers such as Elgar and Vaughan Williams. His own full development as a composer was almost certainly hampered by the immense amount of work he took on, but his energy and charisma, not to mention his abilities as a teacher and administrator, helped establish art music at the centre of English cultural life. He collaborated with the poet Robert Bridges, and was responsible for many books on music, including The Evolution of the Art of Music (1896), the third volume of the Oxford History of Music (1907) and a study of Bach (1909).

Wikipedia

This Parry chant appears twice in The Anglican Chant Psalter. It is included on the staggeringly-popular CD by the choir of St. John the Evangelist, The Wondrous Cross, to which Psalm 84 is set.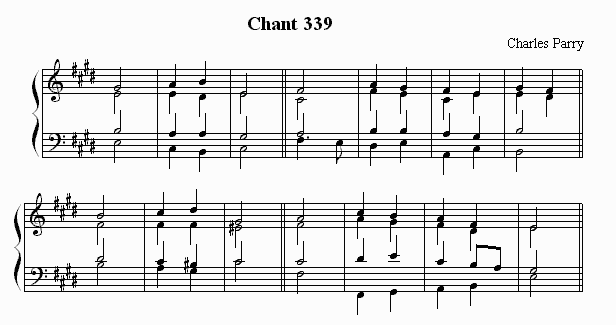 The following links let you hear the Parry chant, played by the computer on a synthesised organ.

The buttons will play the chant in the browser, if the correct plugin is installed.
It will play twice, and clicking on the link again will cause it to repeat.

You might need to click Refresh on your browser, or press F5 before playing, as the chant files change regularly.


Go back to Psalm of the Week.
J. Malton
January 17, 2009

Visitor count: