| | | |
| --- | --- | --- |
| | Thomas Norris (1741?-1790) | |
| | I couldn't find much about Mr. Norris, except that he was a tenor as well as an organist and composer. He was appointed organist at St. John's College, Cambridge, in 1765, and from there went to Christ Church, Oxford from 1776 until 1790, when he was succeeded by William Crotch. (One article suggested that he succeeded Orlando Gibbons as organist to the Chapel Royal, but this is unlikely, since Mr. Gibbons died in 1625.) | |
| | This very familiar chant is featured in both The Anglican Chant Psalter and The Canadian Psalter. | |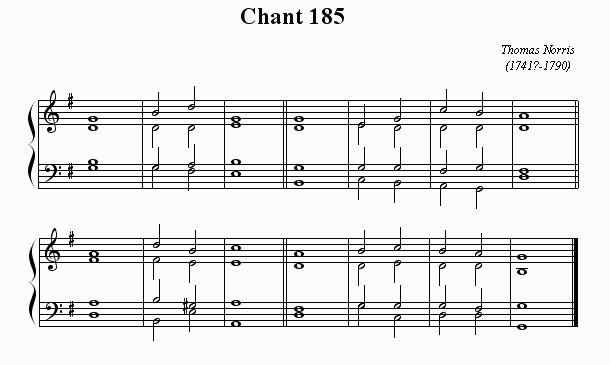 The following links let you hear the Norris chant, played by the computer on a synthesised organ.
It will play twice, and clicking on the link again will cause it to repeat.

You might need to click Refresh on your browser, or press F5 before playing, as the chant files change regularly.