W. Fitzherbert
I could find nothing out about W. Fitzherbert. Not a sausage. Well, I been busy ain't I, and I didn't have time to go to the library this week. Sorry.
Philip Hayes (1738-1797)
Philip Hayes was an 18th century organist, composer, and hymn writer. There, that's all I found on him, but I think he wrote a double concerto for bagpipe and lute when he was 17.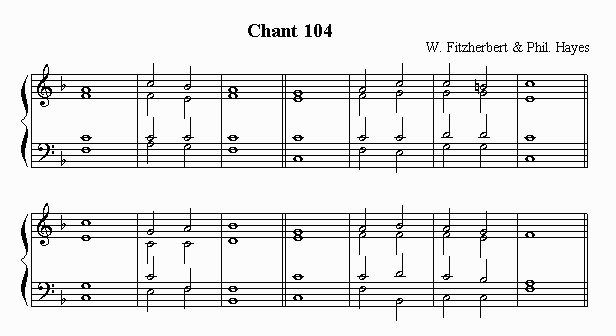 The following links let you hear the Fitzherbert-Hayes chant, played by the computer on a synthesised organ.
It will play twice, and clicking on the link again will cause it to repeat.

You might need to click Refresh on your browser, or press F5 before playing, as the chant files change regularly.


Go back to Psalm of the Week.
J. Malton
October 24, 2003

Visitor count: