Henry Walford Davies (1869-1941)
Sir Henry Walford Davies, KCVO, OBE, (September 6, 1869 - March 11, 1941) was a British composer, who held the title Master of the King's Music from 1934 until 1941. He was born in Oswestry, Shropshire, and grew up, like his siblings, playing any instrument he could lay his hands on, often in an informal band with his brothers, cousins and friends. However, it was as a singer that he was first noticed and entered, against misgivings from his nonconformist family, for a choristership at St. George's, Windsor. In this he was successful, and from the age of twelve he was singing fourteen services a week as well as attending school. Here he came under the influence of Walter Parratt, a leader in the late Victorian organ renaissance, and Randall Davidson, as Dean of Windsor.
Davies studied under, and was assistant to, Parratt for five years before entering the Royal College of Music in 1890 where he studied under Hubert Parry and Charles Villiers Stanford. He remained at the College as a teacher of counterpoint from 1895, one of his pupils being Rutland Boughton. During this time he held a number of organist posts in London, culminating in his appointment in 1898 as organist of the Temple Church where he remained until 1917. In that year he was appointed the first director of music to the newly created Royal Air Force which led to him writing the March RAF March Past, still played by many marching bands today.
Most of Walford Davies' compositions were religious in flavour, and include the oratorio Everyman, other works for orchestra, choir and soloists, and a large number of services and anthems. He also wrote a setting of the Christmas carol "O Little Town of Bethlehem", a well-known choral arrangement of "The Holly and the Ivy", and the Solemn Melody for organ and orchestra.
http://en.wikipedia.org/wiki/Henry_Walford_Davies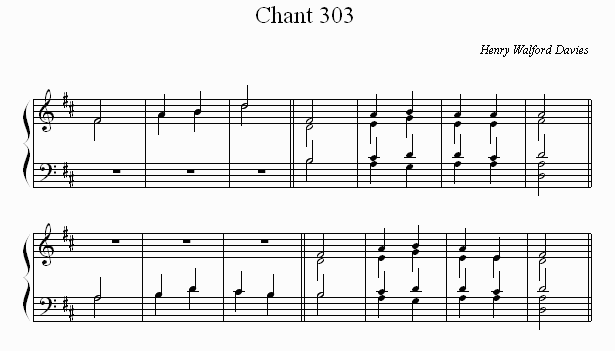 The links below let you hear the Davies chant, played by the computer on a synthesised organ.
The buttons will play the chant in the browser, if the correct plugin is installed.
It will play twice, and clicking on the link again will cause it to repeat.

You might need to click Refresh on your browser, or press F5 before playing, as the chant files change regularly.


Go back to Psalm of the Week.
J. Malton
February 17, 2008

Visitor count: