William Crotch (1775-1847)
Crotch's musical gift showed itself early; at age two, he was playing the organ which his father built. Within a year, he was giving public recitals in London, and academics wrote papers about the young prodigy. He was playing violin and piano by age 7, and by 11 was assistant organist to John Randall at King's College, Cambridge. He composed an oratorio by 14, and at 15 was the organist at Christ Church, Oxford; he received his doctoral degree at age 24. In 1822, he helped found the Royal Academy of Music. He had a distinguished career composing, teaching, and lecturing.
Although Common Praise contains none of his works, the red hymnal features the tune St. Michael. Also, five of Crotch's chants appear in the Canadian Psalter, and six in the Anglican Chant Psalter.
http://www.cyberhymnal.org/bio/c/r/crotch_w.htm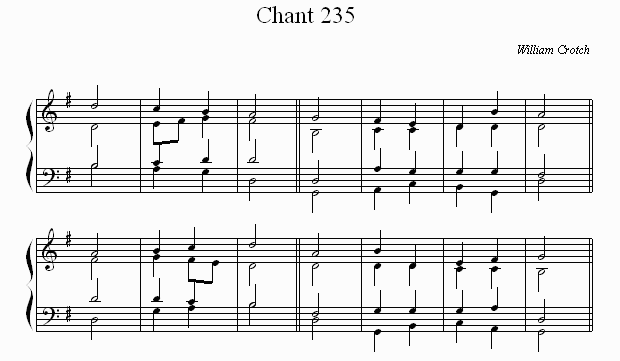 The following links let you hear the Crotch chant, played by the computer on a synthesised organ.
It will play twice, and clicking on the link again will cause it to repeat.

You might need to click Refresh on your browser, or press F5 before playing, as the chant files change regularly.


Go back to Psalm of the Week.
J. Malton
May 10, 2008

Visitor count: