Robert Cooke (1768-1814)
Robert Cooke was the son of Benjamin Cooke, whom he succeeded in 1793 as organist of St. Martin-in-the-Fields. In 1802 he became organist and master of the Choristers of Westminster Abbey; he composed sacred and secular vocal works, including a Service in C (published in 1806) and three glees that won Catch Club prizes (a collection of eight was published in 1805). He died by drowning himself in the Thames and was buried in the Abbey. (He presumably ceased being organist at that time.)
Sadie, S. (ed), The New Grove Dictionary of Music and Musicians, v.6, 2001, Macmillan Publishers, London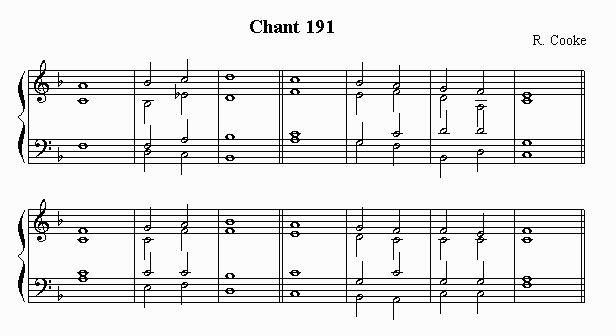 The following links should let you hear the Cooke chant, played by the computer on a synthesised organ.
It will play twice, and clicking on the link again will cause it to repeat.

Chant 192 is the same chant, but in f-minor. Click here to go to Chant 192.
You might need to click Refresh on your browser, or press F5 before playing, as the chant files change regularly.


Go back to Psalm of the Week.
J. Malton
March, 2003

Visitor count: