Matthew Camidge (1758-1844)
Matthew Camidge was the sixth child of John Camidge noted English patriarch of the organists in York. Matthew was a fine chorister and organist known throughout northern England for his organ playing capabilities. Matthew's "Collection of Psalms" became known as "The York Psalm and Hymn Book" containing approximately 30 melodies scored for harmonies and organ. Perhaps the works which brought him the most musical acclaim were his sonatas (violin and cello with organ accompaniment) as they were considered outstanding keyboard works. Matthew Camidge demonstrated little creative individuality in his works but his music was that of a definite artisan. Genres of his compositions included sonatas, concertos, songs, anthems and a psalmody.
Keith Johnson, All Music Guide, Yahoo! Shopping Music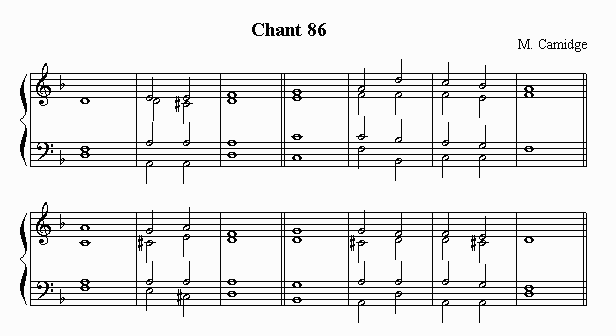 The following links let you hear the Camidge chant, played by the computer on a synthesised organ.
It will play twice, and clicking on the link again will cause it to repeat.

You might need to click Refresh on your browser, or press F5 before playing, as the chant files change regularly.


Go back to Psalm of the Week.
J. Malton
April, 2003

Visitor count: