William Boyce (1711-1779)
William Boyce is among the most important English composers of the late Baroque period, 25 years younger than Handel, whom he outlived by twenty years. He was a rival of Arne and in 1757 became Master of the King's Music. His works include a variety of music for both church and theatre.
Boyce's instrumental music includes a set of Eight Symphonies in eight parts, published in 1760, compositions that reflect the changing tastes of the time. His set of Twelve Trio Sonatas followed a fashion that had started with Corelli in the previous century and was now coming to an end.
One of Boyce's best known songs is the patriotic Heart of Oak. His church music still retains a place in Anglican cathedral repertoire, strengthened by the appearance of his collected Cathedral Music.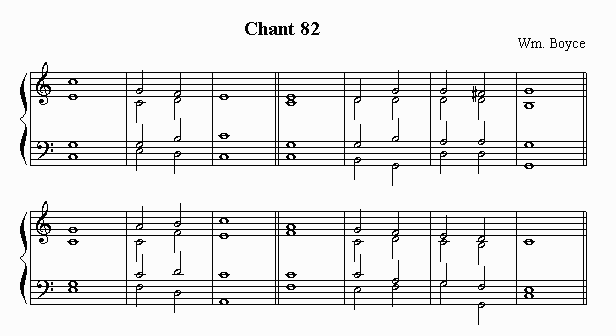 The following links should let you hear the Boyce chant, played by the computer on a synthesised organ.
It will play twice, and clicking on the link again will cause it to repeat.

You might need to click Refresh on your browser, or press F5 before playing, as the chant files change regularly.


Go back to Psalm of the Week.
J. Malton
March, 2003

Visitor count: