Sir Edward Cuthbert Bairstow (1874-1946)
Sir Edward Bairstow was a popular and accomplished organist, choir director, composer, and teacher. He was organist at Wigan from 1899 to 1906, at Leeds from 1906 to 1913, and at York Minster from 1913 to 1946. He was also professor of music at the University of Durham from 1929. In his teaching of music, Sir Edward often insisted that a musician's training should range widely over all aspects of music and other branches of the art not directly connected with their professional work. His own interests were wide, and he passed this on to his pupils. In 1926 he was the first to record any portion of J.S. Bachís Mass in B minor BWV 232, at a Royal Albert Hall concert with the Royal Choral Society.
In 1932 he was knighted. Sir Edward composed church music, anthems, part-songs, and an organ sonata (1937). He published Counterpoint and Harmony (1937), The Evolution of Musical Form (1943), and Singing Learned from Speech (1945).
In spite of writing numerous songs and anthems, none of Sir Edward's works appears in Common Praise. However, four of his chants appear in the Anglican Chant Psalter, and the one in Eb below also appears in the Canadian Psalter.
Hird, David, BMus., FRCO, My Recollections of Sir Edward Bairstow, http://www.dur.ac.uk/r.d.hird/bairstow.htm
Bakerís Biographical Dictionary of 20th Century Classical Musicians (1997)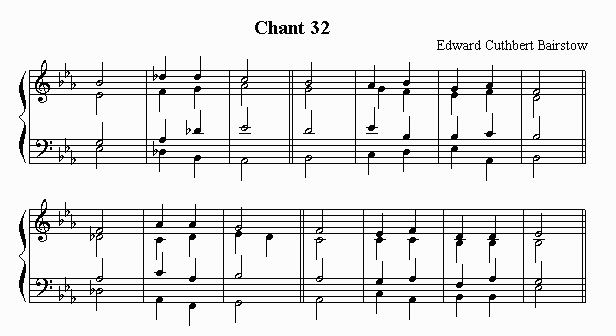 The following links let you hear Sir Edward's chant, played by the computer on a synthesised organ.
It will play twice, and clicking on the link again will cause it to repeat.

You might need to click Refresh on your browser, or press F5 before playing, as the chant files change regularly.


Go back to Psalm of the Week.
J. Malton
November 14, 2003

Visitor count: