Thomas Attwood (1765-1838)
Since Thomas Attwood's father was a household staff member to King George III, and a musician and coal merchant by appointment to boot, Thomas enjoyed royal patronage, and had the opportunity, with his father, to make a most favourable impression on the royalty. After leaving the choir of the Chapel Royal, he became a page to the Prince of Wales. His musical ability so impressed HRH, that Atwood was sent to Naples to take lessons and study composition. After leaving Naples, Attwood travelled to Vienna, where he studied for two years under Mozart.
Upon his return to England, Attwood became a chamber musician to the Prince of Wales, music teacher to the Duchess of York and later, to the Princess of Wales. By 1796, he was also organist of St. Paulís Cathedral and composer to the Chapel Royal, occupying both positions until his death. Starting in 1792, he began producing stage works, mostly in the manner of pastiches, such as The Mariners (1793) which included music by Martini, Dittersdorf and Mozart. He was one of the founders of the Philharmonic Society, and was one of the first in England to perform Mozartís last symphonies, as well as Beethovenís Fifth. He died in 1838 and was buried with great honour under the organ of St. Paulís Cathedral.
The musical shape and the organisation of the harmonies in Attwood's music are influenced by the time he spent with Mozart. This style distinguishes Attwood from his English contemporaries. Among other pieces, Attwood composed small and very fine religious music. Much of this seems to flow from Mozart's Ave verum corpus, so perhaps Mozart is partially responsible for the balance, grace, and sweetness of Attwood's four-part harmonies.
Both the Canadian and Anglican Chant Psalters contain numerous Attwood chants.
http://www.mozartforum.com/Contemporary%20Pages/Attwood%20Contemp.htm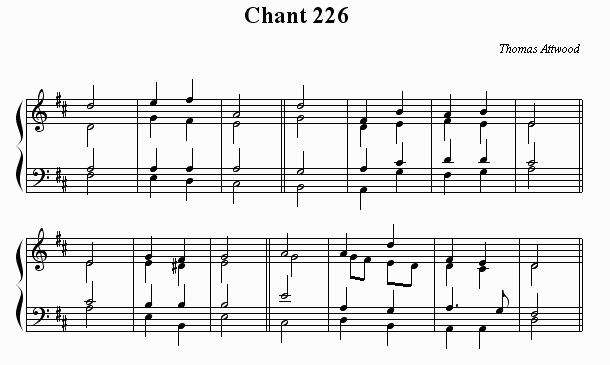 The following links let you hear the Attwood chant, played by the computer on a synthesised organ.
It will play twice, and clicking on the link again will cause it to repeat.

You might need to click Refresh on your browser, or press F5 before playing, as the chant files change regularly.


Go back to Psalm of the Week.
J. Malton
January 25, 2007

Visitor count: